Event Details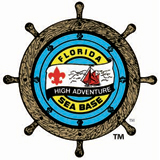 As you know, it is every Scout's dream to experience the ultimate experience and THE outdoor adventure of a lifetime. Individual Scouts are encouraged to register. This is a great opportunity for a Scout to get a chance to go to Sea Base if his or her Troop/Crew/Ship is not able to attend in their own crew.
The Council is offering an expedition to Sea Base from May 27th, 2023 through June 3rd, 2023 (the specific travel time(s) will be confirmed, once our arrangements are set). Sea Base is BSA's High Adventure base in the Florida Keys. Participants will have a once-in-a-lifetime unique experience as they participate in the Coral Reef Sailing Adventure. Their home for a week will be on a large sailing vessel over 40 feet long. During the adventure, they will be sailing the Florida Keys and have the chance to snorkel some of the most beautiful reefs in the Keys and part of the Florida Keys National Marine Sanctuary. They will also have the opportunity to study astronomy, navigation, fish identification, and coral reef ecology. Our contingent is limited to 24 youth and 8 adult leaders so apply early.
In order to be eligible for a Sea Base adventure, Scouts attending must be age 13 by May 28, 2023. Adults (male and female) 18 to 20 years old are considered youth participants.
When & Where
Sea Base
Saturday 05-27-2023 12:00 PM ET to
Saturday 06-03-2023 12:00 PM ET