Event Details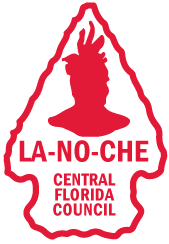 Effective June 1st, 2021, there will be no more mattresses in any campsite. This includes the Scoutmaster rooms. Please bring your own sleeping pad.
2022 SUMMER CAMP AWAITS YOU!
ummer Camp is for Scouts who want to have a week-long experience at camp that will leave them with memories that last a lifetime! Scouts will be able to participate in up to six different programs, such as merit badges, or other multi-day programs. Each day there are opportunities for activities from our early morning Sunrise Paddle to our evening cat-eye trails! There's something for everyone at Camp La-No-Che!
SUMMER CAMP 2022

JUNE 5-11
JUNE 12-18
JUNE 19-25
JUNE 26- JULY 2

SUMMER CAMP 2022 FEES
LEADER FEE DISCOUNT
YOUTH - $350
$50 Non-Refundable Deposit Due at Registration
ADULT - $100
All fees must be paid 1 week before camp starts.
Please refer below for our refund policy.
Units may earn free leaders at camp based on unit attendance
as stated below:
5-29 Scouts = 2 Free Leaders
30-39 Scouts = 3 Free Leaders
40-49 Scouts = 4 Free Leaders
Units must bring a minimum of 5 scouts for the discount
DISCOUNT OPPORTUNITIES
| | | |
| --- | --- | --- |
| Second Week = save $20 per Scout | Siblings = save $20 per sibling | Camp Cards = Potentially save $ |
NEW IN 2022:

PROGRAMS MOVING TO 4 DAYS
Our traditional 5 days for our programs is going down to 4 days - Monday through Thursday. The times for each program will be the same or more than our 5 day programs, and provide Campers opportunity to catch up on requirements Friday as needed.

FANTASTIC FRIDAYS!
Harking back to summers passed, Camp La-No-Che is proud to provide an unparalleled experience for all campers Friday during Summer Camp. Campers will be able to participate in experiences on Friday on property or off site*. The day will be capped off with a closing campfire and cracker barrel for all campers. (*additional fees may apply.)
MORE INFO:
CAMPERSHIPS
We do not want any Scout to miss out on the opportunity to attend summer camp due to financial need. We have funds available to assist families in need in Central Florida Council. Campership applications are completed as part of the registration process. Applications must be received on or before May 1, 2022 for consideration. More info in the Leaders' Guide.
PROVISIONAL CAMPING
If you are unable to attend camp with your troop, a provisional troop is available. Our Provisional Troop is run as a Scout-led unit during their time here at camp. Two-deep adult leadership is provided for all Scouts participating in the Provisional Troop(s). Provisional campers have the same opportunities to enjoy all of the programs provided at Summer Camp. Scouts will register for their own programs and activities through their registration.
REFUNDS
All deposits paid, either for campsite or participant are non-refundable deposits. To request a refund of other monies paid, you must submit a refund request form and meet the criteria listed in order to receive a potential refund.

To review our complete Cancellation and Refund Policy, or to submit a Cancellation Request, please visit: https://www.camplanoche.com/camp-policies/
When & Where
Week 1Williams Scout Reservation
Sunday 06-05-2022 12:00 PM ET to
Saturday 06-11-2022 10:00 AM ET
---
Week 2Williams Scout Reservation
Sunday 06-12-2022 12:00 PM ET to
Saturday 06-18-2022 10:00 AM ET
---
Week 3Williams Scout Reservation
Sunday 06-19-2022 12:00 PM ET to
Saturday 06-25-2022 10:00 AM ET
---
Week 4Williams Scout Reservation
Sunday 06-26-2022 12:00 PM ET to
Saturday 07-02-2022 10:00 AM ET