Event Details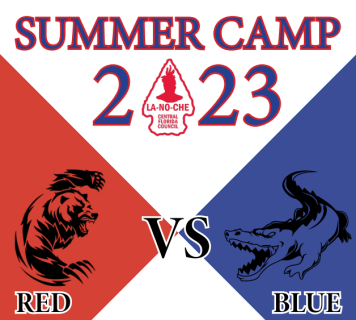 2023 SUMMER CAMP AWAITS YOU!
Summer Camp is for Scouts who want to have a week-long experience at camp that will leave them with memories that last a lifetime! Scouts will be able to participate in up to six different programs, such as merit badges, or other specialty programs. Each day there are opportunities for troop time activities from shooting, swimming, climbing, to our evening Big Stump Mud Hike! There's something for everyone at Camp La-No-Che!
---
SUMMER CAMP 2023:
Wk 1- June 11-17, 2023
Wk 2- June 18-24, 2023
Wk 3- June 25-1, 2023
Wk 4- July 9-15, 2023
---
SUMMER CAMP 2023 EARLY REGISTRATION FEES:
SCOUTS: $380
PROVO: $400
ADULTS: $150
(must be paid 30 days prior to Summer Camp Week)
---
SUMMER CAMP 2023 REGISTRATION FEES:
SCOUTS: $405
PROVO: $425
ADULTS: $175
(paid within 29 days of Summer Camp Week)
---
RESERVE YOUR CAMPSITE NOW:
Pay a Unit deposit of $100 to guarantee your campsite preference
---
PARTICIPANT REGISTRATION:
A $50 per Scout non-refundable deposit is due at registration
(all fees must be paid 30 days before your camp starts)
---
PROVISIONAL CAMPING:
If your Unit is not able to attend Summer Camp look no further than the Provisional Camper Program! Provisional offers a unique experience for Scouts to come together from different cities, councils, or even states to meet one another and have a great experience!
All programs are available to Provisional (Provo) Scouts as if they attended with their unit and we provide adult leadership to watch over them throughout their stay! The additional cost for Provo helps offset the cost for their two-deep leadership, and additional Troop Time Activities just for Provo Scouts. A complete list of these Activities and Troop Time schedule will be provided in the Summer Camp Program Guide for Scouts and parents to review. See you at Camp La-No-Che.
---
ADDITIONAL PROGRAM FEES:
Camp La-No-Che does not charge additional Camp Fees for the vast majority of programs! The only exceptions are some Troop Time Activities, and Specialty Programs. These programs like Horsemanship and Primitive Cooking in the Summer are more expensive, due to the contracting of outside program providers. Troop Time Activities effected include: climbing, zip-lining, shotgun shooting, paracord bracelets, and Troop Snacks due to the cost of supplies/facilities.
DISCOUNT OPPORTUNITIES:
Second Week = save $25 per Scout
Camp Cards = Potentially save $380!
---
CAMPERSHIPS:
We do not want any Scout to miss the opportunity to attend summer camp due to financial need. Funds are available to assist families in need in Central Florida Council. Campership applications are completed as part of the registration process through our registration system. Applications must be received on or before May 1st to be considered.
---
NEW IN 2023:

PROGRAMS RETURNING TO 5 DAYS: Our traditional 5-day programs are coming back, with Merit Badge Instruction- Monday through Friday. Our daily camp schedule will consist of 6 period days. This will feature 3 class periods prior to lunch and 3 class period following lunch.
TROOP TIMES IN 2023: Many camp favorites for the Summer Camp season will be returning, plus additional troop time offering related to our Battle for Camp La-No-Che- Red vs Blue!
SUMMER CAMP BONUS ATTRACTION TOURS: Here is your chance of a lifetime! Camp La-No-Che is proud to offer exciting tour packages for units visiting year round, especially during the summer season. Camp La-No-Che is uniquely positioned in Central Florida just hours from Disney World, Universal Studios, Islands of Adventure, Sea World, Kennedy Space Center, Daytona International Speedway, St. Augustine, Waterparks, Beaches and State Springs.
Open to all units attending camp year-round, Camp La-No-Che is your base camp to all that Central Florida has to offer. The possibilities are endless as you can choose to arrive a day early, stay a day later, or you may soon realize you want to stay an extra week for a blended attraction and camp experience. Camp will work to make your program unique and memorable.
More information will be made available in the Program Guide on January 1st. Packages will be made available for units to select, purchase, and then plan their adventure. Your unit will benefit from Camp La-No-Che Group Rates. As well as camp program scheduling, lodging, and food service as needed by your unit throughout your stay at Camp La-No-Che. Do you have questions contact camp directly, and start your journey to adventures in Central Florida!
THEN WHAT ABOUT FRIDAYS AT CAMP? Fridays will be a time for Scouts to wrap up their missing requirements and leave camp with more accomplished on Saturday. If a Scout find themselves meeting all requirements, they are required to still attend their scheduled class. Structured activities by area will be held to celebrate a successful week and their hard work.
---
REFUNDS:
All deposits paid, either for campsite or participant are non-refundable deposits. To request a refund of other monies paid, you must submit a refund request form and meet the criteria listed in order to receive a potential refund. To review our complete Cancellation and Refund Policy, or to submit a Cancellation Request, please visit: https://www.camplanoche.com/camp-policies/
---
HEALTH & SAFETY:
The health and safety of our Scouting family will always be our top priority and Camp La-No-Che is prepared to provide a safe, fun environment for your Scouts. Our team has worked with multiple Council Committees to provide guidelines aimed at keeping everyone in attendance safe and healthy. Please be sure to review the Leader and Parent Guide for additional information, as well as the Program Guide when posted programs and activities.
---
Here's your ticket to Adventure! Share it with your fellow parents, leaders, and Scouts, and let us know if there is anything we can do for you!
When & Where
Week 1Camp La-No-Che
Sunday 06-11-2023 12:00 PM ET to
Saturday 06-17-2023 10:00 AM ET
---
Week 2Camp La-No-Che
Sunday 06-18-2023 12:00 PM ET to
Saturday 06-24-2023 10:00 AM ET
---
Week 3Camp La-No-Che
Sunday 06-25-2023 12:00 PM ET to
Saturday 07-01-2023 10:00 AM ET
---
Week 4Camp La-No-Che
Sunday 07-09-2023 12:00 PM ET to
Saturday 07-15-2023 10:00 AM ET