Event Details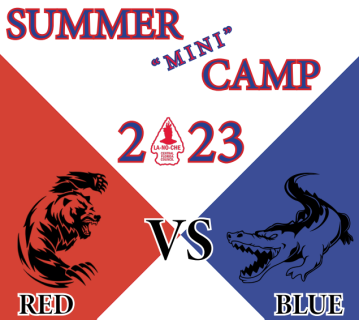 2023 SUMMER "MINI" CAMP AWAITS YOU!
Summer "Mini" Camp is for Scouts who want to experience a 4 day/3 night camp that will leave them with memories that last a lifetime! Scouts will be able to participate in immersive and specialty programs focused on one program specialty. Each day there are opportunities for troop time activities from shooting, swimming, climbing, to our evening Big Stump Mud Hike! There's something for everyone at Camp La-No-Che!
SUMMER "MINI" CAMP 2023:
Session A- June 7-10, 2023
Session B- July 5-8, 2023
SUMMER "MINI" CAMP 2023 EARLY REGISTRATION FEES:
SCOUTS: $200
PROVO: $225
ADULTS: $100
(must be paid 30 days prior to Summer "MINI" Camp Week)
SUMMER "MINI" CAMP 2023 REGISTRATION FEES:
SCOUTS: $225
PROVO: $250
ADULTS: $125
(paid within 29 days of Summer "MINI" Camp Week)
RESERVE YOUR CAMPSITE NOW:
Pay a Unit deposit of $50 to guarantee your campsite preference
PARTICIPANT REGISTRATION:
A $50 per Scout non-refundable deposit is due at registration
(all fees must be paid 30 days before your camp starts)
PROVISIONAL CAMPING:
If your Unit is not able to attend Summer Camp look no further than the Provisional Camper Program! Provisonal offers a unique experience for Scouts to come together from different cities, councils, or even states to meet one another and have a great experience!
All programs are available to Provisional (Provo) Scouts as if they attended with their unit and we provide adult leadership to watch over them throughout their stay! The additional cost for Provo helps offset the cost for thier two-deep leadership, and additional Troop Time Activities just for Provo Scouts. A complete list of these Activities and Troop Time schedule will be provided in the Summer "Mini" Camp Program Guide for Scouts and parents to review. See you at Camp La-No-Che.
ADDITIONAL PROGRAM FEES:
More information will be posted regarding program fees for specialized and immersive programs that have additional cost due to the price of consumable (ammunition, primitive cooking, and horsemanship). Please check back in January for the Summer "Mini" Camp Program Guide.
DISCOUNT OPPORTUNITIES:
Second Week = save $15 per Scout
Camp Cards = Potentially save $225
---
NEW IN 2023:

PROGRAMS: Immersive programs focused on specific program areas, come experience 4 days/3 nights and enhance your traditional summer camp season.
TROOP TIMES IN 2023: Many camp favorites for the Summer Camp season will be returning, plus additional troop time offering related to our Battle for Camp La-No-Che- Red vs Blue!
SUMMER CAMP BONUS ATTRACTION TOURS: Here is your chance of a lifetime! Camp La-No-Che is proud to offer exciting tour packages for units visiting year round, especially during the summer season. Camp La-No-Che is uniquely positioned in Central Florida just hours from Disney World, Universal Studios, Islands of Adventure, Sea World, Kennedy Space Center, Daytona International Speedway, St. Augustine, Waterparks, Beaches and State Springs.
Open to all units attending camp year-round, Camp La-No-Che is your base camp to all that Central Florida has to offer. The possibilities are endless as you can choose to arrive a day early, stay a day later, or you may soon realize you want to stay an extra week for a blended attraction and camp experience. Camp will work to make your program unique and memorable.
More information will be made available in the Program Guide on January 1st. Packages will be made available for units to select, purchase, and then plan their adventure. Your unit will benefit from Camp La-No-Che Group Rates. As well as camp program scheduling, lodging, and food service as needed by your unit throughout your stay at Camp La-No-Che. Do you have questions contact camp directly, and start your journey to adventures in Central Florida!
REFUNDS:
All deposits paid, either for campsite or participant are non-refundable deposits. To request a refund of other monies paid, you must submit a refund request form and meet the criteria listed in order to receive a potential refund. To review our complete Cancellation and Refund Policy, or to submit a Cancellation Request, please visit: https://www.camplanoche.com/camp-policies/
When & Where
Session ACamp La-No-Che
Wednesday 06-07-2023 12:00 PM ET to
Saturday 06-10-2023 10:00 AM ET
---
Session BCamp La-No-Che
Wednesday 07-05-2023 12:00 PM ET to
Saturday 07-08-2023 10:00 AM ET