Webelos to Scout Transition 2021
Event Details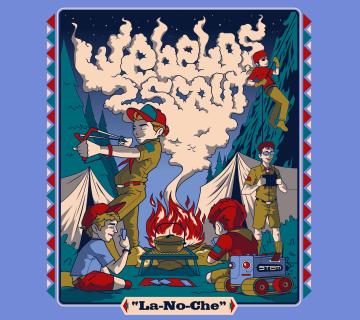 Webelos to Scout Transition Weekend
December 3-4, 2021
Limited Capacity - Register EARLY!
Experience a Scouts BSA Adventure for Webelos & Arrow of Light scouts who want to know what scouting will be like when they cross over into a Troop at Camp La-No-Che on the Leonard and Marjorie Williams Family Scout Reservation.
Scouts may attend with their parent or may attend with their den and 2 Deep Leadership
Cost*: Saturday BREAKFAST AND LUNCH are INCLUDED:
$35 per person thru November 11th
$40 per person November 12 thru December 4th
*Fee includes program Saturday Breakfast and Lunch and camping. Please bring your own camping gear.
Arrival & Check In:
Friday between 4:00 pm & 8:30 pm
Sat am - MUST ARRIVE BY 7:30am

Programming begins at 8am Saturday, price includes breakfast (7am) and lunch. Programming ends at approximately 6pm Saturday night. You may camp Saturday night at no additional charge, but please note: NO SERVICES/MEALS will be provided on Saturday night or Sunday morning.
Activities: Learn about Scouts BSA methods, skills, adventures, displays and information to get Webelos & Arrow of Light scouts, their parents and leaders ready to transition from a pack to a troop! Scouts BSA troops will teach various Scout skills like camp cooking, fire building, knots & lashings, the patrol method and more! This event is for Webelos & Arrow of Light Scouts and adults only (only siblings who are in the 4th or 5th grade are permitted).
Parents and Leaders will have the opportunity to get a head start on Training - choose from Scoutmaster Specific, Troop Committee or Merit Badge Counselor Training.
Don't forget to pre-order the event T-shirt during the registration process. This is the only way to get the shirt (see image on this page) as the we cannot guarantee the Trading Post will be open this weekend.
Please be sure to download and read the attached documents on this registration page as they contain information regarding our efforts to maintain safety as it pertains to COVID-19 and the papers required to have at check in.
https://scoutingevent.com/Download/08366144/OR/BSA_Health_Form_Parts_A__B.pdf
https://www.camplanoche.com/covid-19/

ALCOHOL AND PETS ARE PROHIBITED
All events have a maximum capacity, so please register early!
When & Where
Webelos to Scout Transition 2021Williams Scout Reservation
Friday 12-03-2021 4:00 PM ET to
Saturday 12-04-2021 6:00 PM ET