Tipisa Hosts 2021 S4 Section Conference
Event Details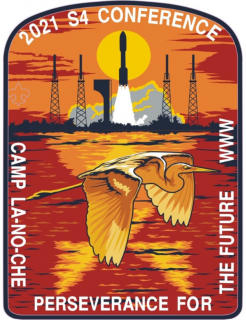 Section S4 2021
Section Conference
Delegate Registration

When: April 9-11, 2021
Where: Camp La-No-Che, Paisley, Florida
Hosted by: Tipisa Lodge - Central Florida Council
On-Time Registration: $45.00 per person - On-Time Registration closes Friday, March 26th at midnight.
Late Registration: $55.00 per person - This will start 3/27/21 and will remain open until Friday, April 2nd at midnight. Afterwards, you will have to signup in person on April the 9th. This may be limited based on local guidelines for the Coronavirus.
This is a $10 late fee applied by Section S4 - it can only be waived by Section S4 Leadership.

Please contact the Chairman and Adviser if you have any questions or concerns about the event.

Tipisa SC 2021 Chairman: John Hill
Tipisa SC 2021 Adviser: Michael Todd (Phone: 321-987-8607)

Required:
Medical Health History Forms - Part A & B. Download the Forms from National here, or you can use your current ones from summer camp or another event. Please bring the copy with you or turn it in to your Lodge Contingent Adviser.
COVID-19 Screening Form and At-Risk Agreement: Download the forms here; complete them the day of your arrival to Camp La-No-Che. They are required to enter camp.
---
My fellow Arrowmen,
On behalf of Section S-4, we are excited to announce that the 2021 Section Conference is gearing up for take off! This year, Tipisa Lodge will be hosting this event April 9-11th at Camp La-No-Che in Paisley, Florida.
As we take flight and shoot for the sky, this weekend will provide incredible experiences for the members of our Section to launch us to new heights. During Section Conference, we will offer opportunities that you can only experience at this event; like our OA High Adventure Outpost, Quest events, seminars, competitions, American Indian Activities Village, and so much more! We will also be piloting the brand new OA Expo where arrowmen can interact with exhibitors and vendors from across our state to view displays and demonstrations of all kinds! From STEM groups to Wildlife, First Responders to your favorite sports teams - all this and more can only be found at Section Conference's OA Expo.
We can't wait to see you at Section Conference and whatever challenges may arise, we will always Persevere for the Future!
Adam Lucier
2020-2021 Section S-4 Chief
For more Info check the Section Website - http://www.sections4.org/
---
Pre-order your favorite conference merchandise and memorabilia, including patches, shirts, masks, and more! Plus, choose to have everything shipped directly to your doorstep, even if you're unable to attend. You can also pre-order meals from the Conference Grill. Check-out the online trading post by clicking here.
When & Where
Section Conference '21Camp La-No-Che
Friday 04-09-2021 5:00 PM ET to
Sunday 04-11-2021 10:00 AM ET
Past