Lift Off to Outer Space 2019
Event Details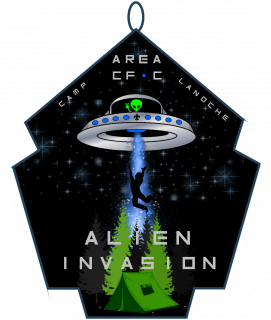 2019 Lift off to Outer Space - Alien Invasion
Camp La-No-Che needs your help cuz the Aliens are BAAAAACK! Come and defend camp from an Alien Invasion and send them back to a galaxy far, far away! Search and capture the aliens on a mobile app from your phone or a phone provided; make alien ooze, use launchers to send the aliens to outer space and make a landing device (all STEM). Then talk to others around the world and possibly in other galaxies using at the ham radio station! And if that isn't enough, you can go hiking, fishing (bring your own gear) and you can even bring your bicycle & helmet! Try your hand at BB Gun & Archery and take a ride down the slide at the pool. Evening activities will include a self-guided hike down the alien trail (cat eye - bring your flashlights), a Cantina Dance Party, Council Ring Program and star gazing in the sports field.
Camping available both Friday and Saturday night and is included in the price.
Please Note: Due to the Camp long term maintenance program, camp tent are not available. Please bring your own tents and camping gear. In addition, only 1 leader room in each activity shelter is available.
Cost:
$20 per person until March 28, 2019
$22 per person March 29- April 11, 2018
$24 per person walk in
Fee includes all programing and camping.
DON'T MISS OUT! Camping not required. Day attendance is permitted.
Arrival & Check In:
Friday 4:00 pm-9:00 pm (Movie in the Dining Hall at 7pm)
Saturday Beginning at 7:30 am
Departure:
Sunday by 11:00 am
Activities begin at 8:30 am rain or shine:
Alien Search & Capture
STEM Activities
Crafts
Hiking
Fishing (bring your own gear)
Swimming
Games
Archery
BB Guns
Bicycling (bring your own bike & helmet)
Campfire FUN
and more!
Event T-Shirts:
MUST be purchased during the registration process at least 3 weeks prior to the event. Event T-shirts will NOT be available in the Camp Trading Post. Cost is $16.05 each and includes sales tax.
Meal Options:
Bring your own meals
OR
Pre-purchase your meals from the Camp Dining Hall during the registration process.
Please remember pets, alcohol, and firearms are not permitted on camp property.
When & Where
Lift Off to Outer SpaceWilliams Scout Reservation - Camp La-No-Che
Friday 04-12-2019 4:00 PM ET to
Sunday 04-14-2019 11:00 AM ET
Past