National Jamboree 2021 CFC Contingent Payment
Event Details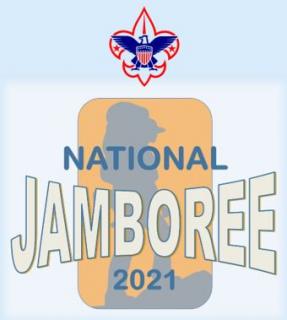 A national Jamboree is an encampment of Scouts/Venturers plus their unit leaders with the purpose of providing a dramatic demonstration of Scouting's ability to develop world goodwill, a spirit of friendship, and a source of understanding among young people through fellowship, activities, and adventure. Most of the participants will come from the Boy Scouts of America although most of the countries with Scout associations will have representation. The National Scout Jamboree is the BSA's iconic event, and one of the most gratifying experiences a Scout can have. Since 1937, the jamboree has provided an occasion for Scouts from all backgrounds, faiths, cultures, and parts of the country to come together around shared values, and to gain invaluable learning experiences through adventure activities. The jamboree is 10 days long and occurs every four years. With Jamboree happening only once every 4 years, chances are scouts may have only one opportunity to attend a National Scout Jamboree.
Here's how you can lock-in your spot for this unique scouting adventure. The Central Florida Council is working to put together 6 units of approximately 200 Youth. Spots are limited, so we highly encourage you to confirm your spot as soon as possible. Cost will be approximately $2,000. CFC Contingent Jamboree fee includes 10 days at Jamboree plus transportation, side-trip excursion, meals, shirts, hat, shakedown weekend, patches and other spirit items. Camping equipment will be provided by the Summit. $100 will hold your place on Central Florida Council's 2021 Jamboree Contingent, and is the only cost you have to pay at this time. Final actual cost, and payment plan structure will be communicated by the conclusion of 2019. Utilizing this portal you can continue to make payments at your leisure, until the formal payment outline is posted at the end of 2019.
Jamboree is expected to take place in late July 2021 Jamboree Qualifications: Scouts and team members MUST have a current BSA membership with a Boy Scout troop or Varsity Scout team. MUST be at least a First Class Scout. MUST be at least 12 years of age by the first day of the Jamboree or an 11 year old that has graduated the 6th grade, but has not reached their 18th birthday by the last day of the Jamboree. Be approved by the unit leader and local council. MUST have appropriate parent/guardian to complete the online parental consent. (An email will be sent to the parent/guardian during the application process.) Participate in pre-Jamboree training experience with local council and unit leader. Submitted BSA Annual Health & Medical Record using the on-line Jamboree submission process. Submit all registrations fees per the local council's payment schedule.
When & Where
Summit Bechtel Reserve
Thursday 07-15-2021 8:00 AM ET to
Sunday 07-25-2021 11:59 PM ET