Wilderness Survival Outpost
Event Details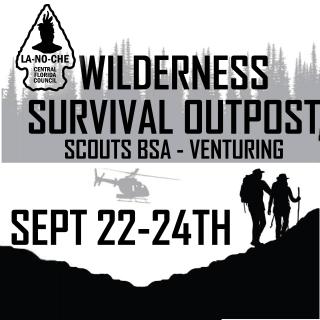 WILDERNESS SURVIVAL OUTPOST
Can you survive in the wilderness? How about with an injury? What about the bitter cold or harsh heat of the environment? Do you have what it takes to perform search and rescue operations for a lost hiker? Are you a good steward of the environment and practice "Leave No Trace". These are just some of the skills you will learn at this new opportunity at Camp La-No-Che!
---
DATE/TIME:
September 22-24th, 2023
Check-in occurs 5-8PM on Friday, September 22nd
Welcome session held at 8:30PM on Friday, September 22nd
Experience begins at 8:30AM on Saturday, September 23rd (course will go overnight for Req. #8 of WSS)
Experience concludes at 11:00AM on Sunday, September 24th
---
YOUTH PROGRAM DETAILS:
Scouts throughout the weekend will engage in experiences centered around Wilderness Survival. Instructors from multiple disciplines will be incorporated into this weekend experience for Scouts to learn from in classroom, outdoor, and scenario activities. This program will feature sessions where multiple topics will be presented including:
Wilderness Survival Merit Badge (all requirements will be completed if Scouts participate)
Search and Rescue Merit Badge (most requirements will be completed if Scouts participate)
Leave No Trace: Awareness Workshop
ADULT PROGRAM DETAILS:
Program for adult leaders is still in development, please check back in the months ahead for updates. If you have a special request please email:
---
COST:
Youth: $42
Adult: $37
Provisional (Individual Scouts/No 2-deep leadership): $52
---
WEEKEND DINING OPTIONS:
$35 per person- 4 Meals: Saturday (Breakfast, Lunch, Dinner), Sunday (Breakfast)
Unit Cooking
(Saturday Nights Dinner and Sunday Breakfast must be able to be prepared at a remote campsite, plan creatively to share unique ideas for trail meals)
Camp meal plan for Saturday Dinner and Sunday Breakfast will consist of the following:
Saturday Dinner: All things Trail Ramen, Vegtables, Meat and Gravies
Sunday Breakfast: All things Oatmeal, Granola, nuts and fruits
---
RESERVE YOUR CAMPSITE NOW:
Pay a Unit deposit of $100 to guarantee your campsite preference (payment goes towards final unit total).
---
REFUNDS:
All deposits paid, either for campsite or participant are non-refundable deposits. To request a refund of other monies paid, you must submit a refund request form and meet the criteria listed in order to receive a potential refund. To review our complete Cancellation and Refund Policy, or to submit a Cancellation Request, please visit:
---
HEALTH & SAFETY:
The health and safety of our Scouting family will always be our top priority and Camp La-No-Che is prepared to provide a safe, fun environment for your Scouts. Our team has worked with multiple Council Committees to provide guidelines aimed at keeping everyone in attendance safe and healthy. Please be sure to review the Leader and Parent Guide for additional information, as well as the Program Guide when posted for programs and activities.
---
Here's your ticket to Adventure! Share it with your fellow parents, leaders, and Scouts, and let us know if there is anything we can do for you!
When & Where
Wilderness Survival CampoutCamp La-No-Che
Friday 09-22-2023 5:00 PM ET to
Sunday 09-24-2023 11:00 AM ET
Past