2018 Central Florida Council Trade-o-ree
Event Details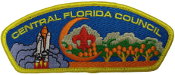 CENTRAL FLORIDA COUNCIL, BOY SCOUTS OF AMERICA
Presents the Thirtieth Annual
Sunshine Trade-o-ree
February 16-17, 2018
SCOUTING MEMORABILIA & SHOW
FREE entry for ALL!!
Food/Drinks available
Look - Buy - Trade - Sell

Place: National Guard Armory
2809 South Fern Creek Ave., Orlando, FL 32806
Friday: 2:00 pm until 11pm (People who rent tables can arrive at noon for setup)
Saturday: 8:00 am until 2:00 p.m.
FREE entry for ALL!!
Table Rentals: wall tables are $30.00, inside tables $25.00.
Note: We will have 100 tables available and expect to have over 300 participants.
LIVE PATCH AUCTION: Friday evening 8:00pm
SILENT PATCH AUCTIONS: Hourly Fri. & Sat. morning
For additional information contact:
Bob Voegele: (407) 221-6263 or ravman3@ymail.com
When & Where
2018 Central Florida Council Trade-o-reeNational Guard Armory
Friday 02-16-2018 2:00 PM ET to
Saturday 02-17-2018 2:00 PM ET
Past