Event Details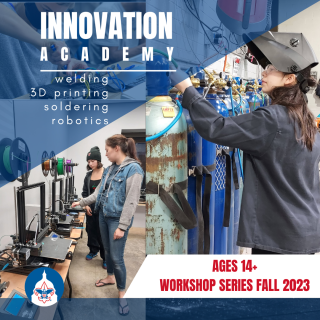 Exploring with Innovation Academy is a program in which you can learn about welding, 3d printing, coding and robotics, all in 15 hours!
This program takes place in Alexandria, VA at Building Momentum, a problem-solving organization with expertise in training people of all ages in fabrication and building technologies.
Who is this program for?
This is for all individuals ages 14 - 21, with an interest in learning! You do not have to have experience in any of the fabrication technologies - Building Momentum's educators are experts at teaching individuals at all skill levels. We do ask that you want to work with your hands and you work well with kids/teaching.*
When?
This program will run every other Monday, 5pm - 8pm, beginning 10/23
The educational workshops are: 10/23, 11/6, 11/20, 12/4, optional 12/18
Additonally should plan to attend any 5 community days to serve as volunteers and get the required experience with hands-on shop times. There are many weekend and no-school days to attend community days:

2023: 11/3, 11/7, 11/11, 11/22, 11/24, 12/18, 12/19, 12/20
2024: 1/15, 1/22, 2/11, 2/19, 3/18, 3/22, 3/25, 3/26, 3/27, 3/28, 3/29, 4/1, 4/2, 4/10, 5/3, 5/27, 6/7
Where?
Building Momentum | 5380 Eisenhower Ave Suite C, Alexandria, VA 22304
What will you learn?
Each of the 5 sessions will be focused on a specific area. Roughly speaking, the focus of:

October is welding
November is 3D printing and CAD
December is robotics/coding


Innovation Academy is a fun and hands-on program to learn many skills for fabrication and innovation well!
More general event details:
Preferred Qualifications:
First Aid Merit Badge or First Aid Certification
Fee:
The fee is $185. This includes all 5 sessions' instruction and materials!

Please note: If you are already a registered Explorer in NCAC (even if in another career program: law enforcement, aviation, business, law, etc.) your annual Exploring dues allow you to register for Building Momentum's program for $140. Please reach out to stem@ncacbsa.org

* Why are we looking for individuals who also like teaching? Building Momentum is all about training individuals, to train more individuals to learn about fabrication, innovation and building! Those who seem like promising part-timer staff may be invited to paid opportunities or Summer Academy Staff.
Questions? Please let us know! stem@ncacbsa.org
When & Where
Innovation Academy BootcampBuilding Momentum
Monday 10-23-2023
5:00 PM ET to 8:00 PM ET