Colonial 2020 Pinewood Derby
Event Details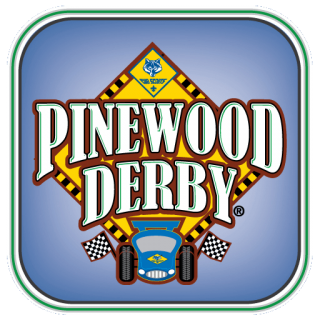 This year's District Pinewood Derby is to be held Saturday, March 7 at Aldersgate UMC, 1301 Collingwood Rd, Alexandria, VA, 22308. A promotional flyer for use by your units can be downloaded from the right side of the page.
Come join in the chase at Colonial's 2020 Pinewood Derby. You may enter each Cub Scout either in the category of Speed or Show theme. Speed heats will be run according to Rank (Tiger, Wolf, Bear, etc.). Show Categories are Best Scout Themed, Most Realistic, Most Imaginative, Most Humorous and Best Themed. Cost is $10.00 per Cub Scout. There will be trophies and prizes. Remember to indicate whether your car is for RACING or SHOW.
Race check-in runs from 8:00 AM to 8:45 AM on Saturday, March 7, and we hope to start racing at 9:00 AM. We expect the races to end by 12:00 PM, depending on the number of cars and tracks.
Also this year, Lion Scouts are invited to join in the fun. Lions may purchase a pre-cut wedge car, rather than the standard block that can be cut into any shape. This wedge car is an option available to Lions only.
Adults and siblings are welcome to race! No registration fee. Races before final Scout race. Register on 7 March.
If your Pack can lend a track and staff it for the derby, the Pinewood Derby Director would be mighty appreciative. Packs volunteering tracks will be able to set up Friday evening, March 6, between 7:00 PM and 9:30 PM.
If your Pack can lend a track, please contact James Dreier (jkdreier72@gmail.com) or cell 703-922-7624
The rules for this year's Pinewood Derby can be found on the right side of this page.
# # #
When & Where
Aldersgate UMC
Saturday 03-07-2020 8:00 AM ET to 12:00 PM ET
Past