Scoutmaster Position - Specific Training (S24) White Oak
Event Details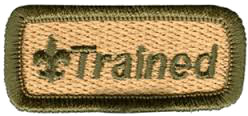 Scoutmaster Position - Specific Training (S24)
(For Scoutmasters/ Assistant Scoutmasters and any interested adult who is 18 or older)
Registration Deadline:
Online Payment Only by April 20, 2017
White Oak will NOT accept payments at the Marriott Scout Service Center
Course fee: $10
Schedule:
8:30 AM - Registration
9:00 AM - 1:30 PM
LOCATION:
Colesville Presbyterian Church
(link to their web site is http://www.colesvillepresbyterian.com/)
12800 New Hampshire Ave, Silver Spring, MD 20904
Who takes training? This course is intended for Scoutmasters, Assistant Scoutmasters, and interested Committee members and parents of Troop members. It is designed to further your scouting interests and to help enhance your job performance though the use of the "Patrol Method".
Introduction to Outdoor Leaders Training (IOLS), will complete your training.
You must register for IOLS separately.

May 6-7, 2017 – WO

What to bring:
- Boy Scout Handbook,
- Troop Leader Guidebook Vol. 1,
- Lunch (there is no time to go out for lunch),
- Empty 3 ring binder,
- Questions.
- (Coffee and Donuts provided!)
Prerequisites: Complete before attending: (https://my.scouting.org/)
- Youth Protection (Y01)
Suggested Courses to complete before coming: (online classes are found at: https://my.scouting.org/)
- This Is Scouting (WA01)
- Fast Start (WSFS)
- Weather Hazards (WS81)
Please gather your training dates before you start the registration process. It will make the registration easier. If you have already taken Introduction to Outdoor Leader Skills (IOLS), please provide the date.
Online registration requires the following information:
- BSA ID Number
- Full Name (As found on BSA membership card)
- Email Address
- Phone numbers
- Address
- District
- Unit Type/Number
- Current Registered Position
- Position to be Trained for
- Training Already Completed
This is a uniformed event, if you have one wear it. If you need one let us know!
For more information contact Course Director; Jeep Fortuna
bsa.jeep@gmail.com (301) 593 - 6125
If you have problems registering, contact the Training Coordinator; Mary Lou Gundersen at 301-869-5625 or mdtrainingrecords@comcast.net
When & Where
Colesville Presbyterian Church
Saturday 04-22-2017 8:30 AM ET to 3:00 PM ET
Past
Contact
Jeep Fotuna
Course Director
bsa.jeep@gmail.com

Marriott Scout Service Center
9190 Rockville Pike
Bethesda, Maryland 20814
Phone: 301-530-9360