Event Details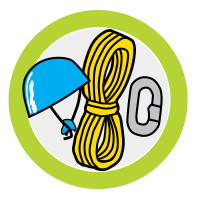 2022 NCAC CLIMBOREE
Join us at Camp Rock Enon on September 16-18, 2022 for an NCAC family camping weekend open to all ages! Enjoy a beautiful campground with the best climbing on natural rock on a Scout camp close to DC. We will also provide both easy and challenging hikes, backpacking skills clinics, and Cub and Webelos activities. You will need to supply your own food and camping gear.
NOTICE: As of 8/7/2022 all climbing and rappelling classes are filled. We still have campsite space, a mobile climbing tower, bouldering, slacklining, hikes, and Cub/Webelos activities available. Cancellations by climbers may free a few class positions before September 2. We may find opportunities to climb if registered participants finish before the ends of their climbing periods. However, at this time we cannot guarantee rappelling or roped climbing on natural rock for anyone who is not already registered in a rappelling or climbing class.
CLIMBING
Camp Rock Enon has a massive sandstone ridge that runs the length of the property with a main climbing wall next to the parking lot. Many climbs are 30-40 feet high and range in difficulty from beginner to advanced. We have the climbing gear you will need and trained instructors who will teach you how to use it.
Scouts BSA and older range can climb and rappel on this wall. Webelos can rappel but cannot participate in roped climbs on natural rock. Cubs can boulder but cannot participate in rappels or roped climbs on natural rock.
Each eligible person 11 or older who wants to climb or rappel on the main wall should register for a climbing period on Saturday, September 17. Webelos who want to rappel should register for a Webelos rappelling period. We expect many additional first-come, first-served climbing and rappelling opportunities throughout the day.
CUBS AND WEBELOS
Cubs and Webelos may climb on a mobile climbing tower, boulder, walk a slackline, join a photo scavenger hunt, geocache, take a nature hike, and launch rockets (the non-burning, reusable kind). The High Adventure Committee will conduct family hikes and offer backpacking skills clinics.
MERIT BADGES
Camp Rock Enon's unique resources make it possible to complete all of the Camping merit badge's challenging Requirement 9 in a single weekend, except for 20 nights of camping. You can complete two nights of camping [9(a)], make the steep two-mile hike to Pinnacle Rock [9(b)(1)], rappel 30 feet on the climbing wall [9(b)(6)], and perform a conservation project [9(c)].
We will have merit badge counselors on staff to sign off on climbs and rappels for the Climbing and Camping merit badges and the Ranger Mountaineering elective. If you want to take advantadge of this opportunity, register for a climbing period and contact NCAC.Climboree@gmail.com prior to the event for instructions. For the Camping merit badge, register also for a Pinnacle Rock hike.
CAMP ROCK ENON
Camp Rock Enon has almost 900 acres of majestic forest nestled in the northern tip of the Shenandoah Valley and 14 camp areas within a short walking distance of all program areas and services. Each campsite is equipped with raised tent platforms, a shelter, picnic tables, a latrine, a wash station with potable water, a flagpole, a bulletin board and a campfire circle. The main camp has flush toilets and a shower house with private stalls and hot water available all day and night.
REGISTRATION
Registration costs $20 per Cub/Webelos, $25 per youth 11-18, $30 per adult. There are no additional fees for hiking or climbing. Limited to 300 participants. Check in between 4:00 pm and 9:30 pm on Friday, September 16. Gates will close at 9:30 pm. Registration closes on Friday, September 2. Register today for a unique new Scouting experience!
When & Where
ClimboreeCamp Rock Enon
Saturday 09-17-2022 8:00 AM ET to 5:00 PM ET