2024 Woodwork Merit Badge Shop Time Sessions
Event Details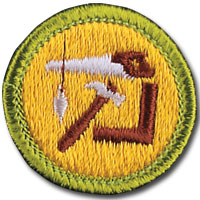 2024 Woodwork Merit Badge Shop Time Sessions
Supervised shop time for Scouts to work on Woodwork Merit Badge project requirements 4, 5 & 6.
Note: To view the schedule and description of the 2024 Woodwork Merit Badge Classroom Sessions, please Click Here
Who: This course is open to all registered Scout Youth.
Prerequisite: Scouts must have completed the Woodwork Merit Badge Classroom Session before attending this session.
Be Prepared: Scouts need to determine which project requirement(s) they will work on and bring the necessary project plans and materials with them to the session. Project plans may be formal drawings or hand sketches. For additional preparation details, please review our Preparation Notes document. A link to this document is provided at the bottom right of this page.
Questions: If you have any questions about project requirements, project plans or materials, please send us an email MichaelsWoodshop.CWBS@gmail.com. Youth must copy a parent on all email communications.
Where: Michael's Woodshop. Please see the Camp Map for the location of the Michael's Woodshop at Camp Snyder.
When & Where
Mar - Shop Time Session (8-11am)
Camp William B. Snyder
Saturday 03-09-2024
8:00 AM ET to 11:00 AM ET

---
Apr - Shop Time Session (8-11am)
Camp William B. Snyder
Saturday 04-13-2024
8:00 AM ET to 11:00 AM ET

---
May - Shop Session (8-11am)
Camp William B. Snyder
Saturday 05-04-2024
8:00 AM ET to 11:00 AM ET

---
Jun - Shop Time Session (8-11am)
Camp William B. Snyder
Saturday 06-01-2024
8:00 AM ET to 11:00 AM ET

---
Aug - Shop Time Session (8-11am)
Camp William B. Snyder
Saturday 08-24-2024
8:00 AM ET to 11:00 AM ET

---
Sep - Shop Time Session (8-11am)
Camp William B. Snyder
Saturday 09-14-2024
8:00 AM ET to 11:00 AM ET

---
Oct - Shop Time Session (8-11am)
Camp William B. Snyder
Saturday 10-12-2024
8:00 AM ET to 11:00 AM ET

---
Nov - Shop Time Session (8-11am)
Camp William B. Snyder
Saturday 11-09-2024
8:00 AM ET to 11:00 AM ET