BSA Leave No Trace Trainer Course - Outdoor Ethics
Event Details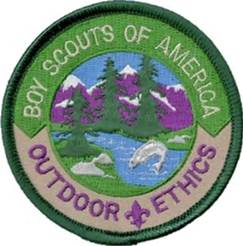 Purpose of this Course
From a Cub Scout's first hike in a local park to the thrill of our High Adventure bases, from our backyard to the backcountry, our outdoor ethics guide us to be responsible outdoor citizens — protecting our natural world for generations to come and being considerate of other visitors.

The Cub Scout, Scouts BSA, Venturing, and Sea Scout programs all include outdoor stewardship, care for the environment, and Leave No Trace.

This Leave No Trace Trainer course is designed to enrich your understanding of Leave No Trace principles and practices, expand your repertoire of low-impact skills, and increase your effectiveness in teaching these important skills to others.

Course Description
This course is for BSA members 14 and older who teach outdoor skills to others.
Participants learn Leave No Trace awareness, principles, skills and ethics through a combination of presentation, discussion, and hands-on activities. They learn and practice techniques for teaching these concepts.
Each participant will prepare and present a short (10-15 minute) lesson. Topic assignments will be given to participants before the course.
At least 10 days before the required Saturday outdoor session--which will be held in Germantown, MD--students will be assigned approximately 6 hours of online self-study learning, which must be completed prior to the outdoor session. Students who do not complete the self-study portion will not be allowed to attend the outdoor session. Students must attend the entire Saturday in-person session.
Preregistration is required and class size is limited, so register soon.
The class will be held at Camp Snyder in Haymarket, VA. A suggested equipment list, driving directions, etc will be provided to participants before the course.
Scouting has embraced the Leave No Trace program as the core of our outdoor ethics. Every Troop, Crew and Pack should have at least one Leave No Trace Trainer. Within Scouting, this course is recommended for:
Troop Outdoor Ethics Guides and their adult mentors
Other Troop and Crew leaders – youth & adults
Cub Scout Pack adult leaders
High Adventure crew leaders
Summer camp and High Adventure Base staff, Camp Commissioners
District training teams and other outdoor skills instructors
"High end" course instructors (Wood Badge, National Youth Leadership Training, etc.)
Those completing the course will be Leave No Trace Trainers, recognized by Leave No Trace and the BSA. They will be prepared to:
Understand, demonstrate, and teach minimum impact techniques to friends, family, scouting groups, and other community groups.
Teach general Leave No Trace awareness workshops or other activities.
Teach the BSA Leave No Trace 101 Awareness class, help others earn the Outdoor Ethics Awards, teach and check outdoor ethics advancement requirements, and lead related activities at scouting events.
Lead discussions on outdoor ethics and help others explore their own personal outdoor ethic.
Serve as an outdoor ethics resource in their community and scouting district.
All participants must be current registered members of the BSA. All adult participants must be current in their BSA Youth Protection Training.
This is an adult-level course. Youth participants must have the maturity to discuss and teach sensitive topics, such as feminine hygiene and proper disposal of various forms of human waste, to other youth and adults.
Note: Additional course details will be emailed to participants a few weeks prior to the course.
Key Dates
Enrollment closes
Monday, September 18
Student self-study
Tuesday, September 19 through Friday, September 29
Zoom meeting
Monday, September 25, 7:00pm to 8:00pm EST
Outdoor session

Saturday, September 30, 9:00am to 7:00pm EST

Izaak Walton League of America-Germantown MD

18301 Waring Station Rd
Germantown, Maryland 20874
Phone: 301-906-0069
Cost
This course will cost $50.00 per participant (same price for both youth and adults).
Course Director
Paul Schimke
paul@schimke.org
301-906-0069
When & Where
Introductions - VIRTUALVia Zoom
Monday 09-25-2023
7:00 PM ET to 8:00 PM ET
Past
---
Field Work - IN PERSONIzaak Walton League, Germantown MD
Saturday 09-30-2023
9:00 AM ET to 7:00 PM ET
Past