2022 Woodwork Merit Badge Classroom Sessions
Event Details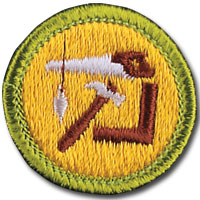 Woodwork Merit Badge "Classroom Session"
Participants will have the opportunity to complete Woodworking Merit Badge requirements 1, 2, 3b & 7
To view the schedule and related information for the Woodwork Merit Badge "Shop Time" Sessions, Click Here
Who: This course is open to all registered Scout Youth.
Be Prepared: Participants should read the relevant sections of the merit badge book and complete the Merit Badge Morksheet for those requirements. Participants should bring their Totin' Chip or a note from their Scoutmaster or Advancement Chair indicating that they have earned it. Participants MUST BRING two woodworking tools to sharpen (hand planes and chisels are ideal; pocket knives and axes will not meet the requirements). Please review the Preparation Notes pdf file for more details (link below)
When: Monthly classes, various dates and times.
Where: Michael's Woodshop. Please see the Camp Map for the location of Michael's Woodshop at Camp Snyder
When & Where
Mar Classroom Session (1:30-4:30pm)Camp William B. Snyder
Sunday 03-06-2022 1:30 PM ET to 4:30 PM ET
Past
---
Apr Classroom Session (1:30-4:30pm)Camp William B. Snyder
Sunday 04-03-2022 1:30 PM ET to 4:30 PM ET
Past
---
May Classroom Session (1:30-4:30pm)Camp William B. Snyder
Sunday 05-01-2022 1:30 PM ET to 4:30 PM ET
Past
---
Jun Classroom Session (1:30-4:30pm)Camp William B. Snyder
Sunday 06-05-2022 1:30 PM ET to 4:30 PM ET
Past
---
Aug Classroom Session (1:30-4:30pm)Camp William B. Snyder
Sunday 08-07-2022 1:30 PM ET to 4:30 PM ET
Past
---
Sep Classroom Session (1:30-4:30pm)Camp William B. Snyder
Sunday 09-11-2022 1:30 PM ET to 4:30 PM ET
Past
---
Oct Classroom Session (1:30-4:30pm)Camp William B. Snyder
Sunday 10-02-2022 1:30 PM ET to 4:30 PM ET
Past