Snyder Unit Camping August - December
Event Details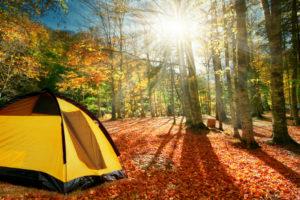 Camp Snyder 2021 Unit Camping
Thanks for choosing Camp Snyder for your Unit camping needs. We're excited to give everyone an opportunity to get outside and into the woods!
Please make one registration per unit. We request that units book no more than 3 campsites. This allows for 40-45 attendees per site, and no more than 135 members per scout unit on a specific weekend. We are trying to ensure that as many units as possible can get camping again this fall.
Each campsite has 9 platforms, 1 pavilion, 1 campfire ring and plenty of space. There will be no formal activities provided during your stay but there is plenty to do at the camp on your own. Canvas tents are not available outside of summer camp. Shower house 1 remains open year round. Shower houses 2-4 are closed as soon as overnight freezing temperatures hit.
More information about Camp Snyder and add on activity options for your unit are available at GoToSnyder.org
When & Where
Snyder Camping Weekend 0827 - 0829Camp William B. Snyder
Friday 08-27-2021 5:00 PM ET to
Sunday 08-29-2021 10:00 AM ET
Past
---
Snyder Tower Rental - Pack 1537Camp William B. Snyder
Thursday 09-09-2021 10:00 AM ET to
Friday 09-10-2021 10:00 AM ET
Past
---
Snyder Camping Weekend 0910 - 0912Camp William B. Snyder
Friday 09-10-2021 5:00 PM ET to
Sunday 09-12-2021 10:00 AM ET
Past
---
Snyder Tower Rental - Pack 1860Camp William B. Snyder
Wednesday 09-15-2021 12:00 PM ET to
Thursday 09-16-2021 10:00 AM ET
Past
---
Snyder Camping Weekend 0924 - 0926Camp William B. Snyder
Friday 09-24-2021 5:00 PM ET to
Sunday 09-26-2021 10:00 AM ET
Past
---
Snyder Tower Rental - Troop 317Camp William B. Snyder
Friday 10-01-2021 12:00 AM ET to
Saturday 10-02-2021 11:59 PM ET
Past
---
Snyder Camping Weekend 1001 - 1003Camp William B. Snyder
Friday 10-01-2021 5:00 PM ET to
Sunday 10-03-2021 10:00 AM ET
Past
---
Snyder Tower Rental - Troop 1404Camp William B. Snyder
Friday 10-08-2021 10:00 AM ET to
Sunday 10-10-2021 12:00 PM ET
Past
---
Snyder Camping Weekend 1008 - 1010Camp William B. Snyder
Friday 10-08-2021 5:00 PM ET to
Sunday 10-10-2021 11:00 AM ET
Past
---
Snyder Camping Weekend 1015 - 1017Camp William B. Snyder
Friday 10-15-2021 5:00 PM ET to
Sunday 10-17-2021 10:00 AM ET
Past
---
Pack 684 BalanceCamp William B. Snyder
Monday 10-18-2021 12:00 AM ET to 11:59 PM ET
Past
---
Snyder Camping Weekend 1029 - 1031Camp William B. Snyder
Friday 10-29-2021 5:00 PM ET to
Sunday 10-31-2021 11:00 AM ET
Past
---
Snyder Camping Weekend 1105 - 1107Camp William B. Snyder
Friday 11-05-2021 5:00 PM ET to
Sunday 11-07-2021 11:00 AM ET
Past
---
Snyder Camping Weekend 1112 - 1114Camp William B. Snyder
Friday 11-12-2021 5:00 PM ET to
Sunday 11-14-2021 11:00 AM ET
Past
---
Snyder Camping Weekend 1119 - 1121Camp William B. Snyder
Friday 11-19-2021 5:00 PM ET to
Sunday 11-21-2021 11:00 AM ET
Past
---
Snyder Tower Rental - Troop 55Camp William B. Snyder
Friday 12-03-2021 10:00 AM ET to
Saturday 12-04-2021 10:00 AM ET
Past
---
Snyder Camping Weekend 1203 - 1205Camp William B. Snyder
Friday 12-03-2021 5:00 PM ET to
Sunday 12-05-2021 11:00 AM ET
Past
---
Snyder Tower Rental - Troop 987 Pack 987 Pack 833Camp William B. Snyder
Friday 12-10-2021 10:00 AM ET to
Sunday 12-12-2021 10:00 AM ET
Past
---
Snyder Camping Weekend 1210 - 1212Camp William B. Snyder
Friday 12-10-2021 5:00 PM ET to
Sunday 12-12-2021 11:00 AM ET
Past
---
Snyder Camping Weekend 1217 - 1219Camp William B. Snyder
Friday 12-17-2021 5:00 PM ET to
Sunday 12-19-2021 11:00 AM ET
Past