2021-22 Pinewood Derby Days - Pack/Den Sessions
Event Details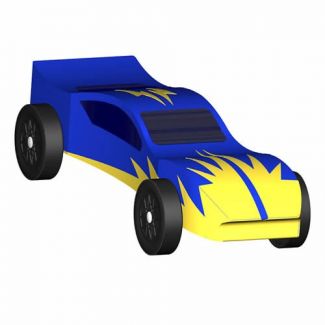 Fourth Annual Pinewood Derby Days - Pack Sessions
All Sessions Originally Set Aside for Pack PWD Sessions Have Been Reserved. If you would like to schedule a time, please submit a PWD Request Form (see below) and we will contact you to try to coordinate a time. Please note that we still have many weeknights available for scheduling ad hoc Den Sessions.
NOTE: Under our Covid-19 Safety Guidelines, we will continue to operate our PWD sessions at a reduced headcount for the 2021-2022 season. We have set aside certain times for "Pack Sessions" (4 hrs, 16 to 21 participants). Den Sessions (2 to 2 1/12 hrs, 6 to 12 participants) can be scheduled on weeknights on an ad hoc basis. Please see the Den Session information on the Pinewood Derby Days webpage for more information.
If you are just starting the process:
1. Please review the Pack/Den PWD Rules and Responsibilities to make sure this event will work for your unit
2. Scroll through the list of sessions at the right and look for "Available Pack Session" dates. We recommend you select a primary date and at least one alternate date. If you can not locate a date that is suitable for your unit, please continue to the next step and enter your proposed dates in the required fields. We will contact you and try to arrange an alternate date.
3. Return to the Pinewood Derby webpage or click on the link to complete the "Request a PWD Date" form. One of our volunteers will review your request and respond to you to coordinate a date for your event.
If you already have a date confirmed by our Volunteer group, please locate your session in the list at the right (RESERVED - PACK ####) and click on the Confirm/Pay button to complete your registration.
Reminders: Each Cub Scout needs to bring their car kit. It is highly recommended that Scouts adjust the weight of their car to get close to the 5 oz maximum. If Scouts want to adjust their car's weight during their session, they must bring their own weights. Cylindrical weights are ideal.
Scouts must be accompanied by a parent or adult leader at all times while in the shop.
Please share a copy of our Camp Map with all of your attendees so they can locate Michael's Woodshop on the camp property. Attendees do not need to check in at the office upon arrival, they should proceed directly to the wood shop.
When & Where
Reserved - Pack 1185 PWD Session (6-7:30pm)Camp William B. Snyder
Tuesday 10-26-2021 6:00 PM ET to 7:30 PM ET
Past
---
Reserved - Pack 1540 PWD Session (6-8:30pm)Camp William B. Snyder
Thursday 12-02-2021 6:00 PM ET to 8:30 PM ET
Past
---
RESERVED Pack 28 PWD Session (1-5pm)Camp William B. Snyder
Saturday 12-04-2021 1:00 PM ET to 5:00 PM ET
Past
---
Reserved - Pack 30 PWD Session (6-7:30pm)Camp William B. Snyder
Wednesday 12-08-2021 6:00 PM ET to 7:30 PM ET
Past
---
RESERVED - Pack 919 PWD Session (1:30-5:30pm)Camp William B. Snyder
Sunday 12-12-2021 1:30 PM ET to 5:30 PM ET
Past
---
Reserved - Pack 30 Bears PWD Session (6-8:00pm)Camp William B. Snyder
Wednesday 12-15-2021 6:00 PM ET to 8:00 PM ET
Past
---
RESERVED - Pack 1785 PWD Session (8am-noon)Camp William B. Snyder
Saturday 12-18-2021 8:00 AM ET to 12:00 PM ET
Past
---
Reserved - Individualized Session- MMCamp William B. Snyder
Wednesday 12-29-2021 4:30 PM ET to 5:45 PM ET
Past
---
Reserved - Pack 910 PWD Session (6-8:30pm)Camp William B. Snyder
Wednesday 12-29-2021 6:00 PM ET to 8:30 PM ET
Past
---
Reserved - Pack 1343 PWD Session (1:30-5:30pm)Camp William B. Snyder
Sunday 01-02-2022 1:30 PM ET to 5:30 PM ET
Past
---
RESERVED Pack 2011 PWD Session (8am-noon)Camp William B. Snyder
Saturday 01-08-2022 8:00 AM ET to 12:00 PM ET
Past
---
RESERVED Pack 858 PWD Session (5-8pm)Camp William B. Snyder
Saturday 01-08-2022 5:00 PM ET to 8:00 PM ET
Past
---
RESERVED - Pack 129 PWD Session (10am-12:30pm)Camp William B. Snyder
Sunday 01-09-2022 10:00 AM ET to 12:30 PM ET
Past
---
RESERVED - Pack 1858 PWD Session (1:30-5:30pm)Camp William B. Snyder
Sunday 01-09-2022 1:30 PM ET to 5:30 PM ET
Past
---
Reserved - Pack 42 PWD Session (5:30-8:30pm)Camp William B. Snyder
Monday 01-10-2022 5:30 PM ET to 8:30 PM ET
Past
---
Reserved - Pack 42 PWD Session (5:30-8:30pm)Camp William B. Snyder
Tuesday 01-11-2022 5:30 PM ET to 8:30 PM ET
Past
---
Reserved - Pack 149 PWD Session (5:30-8:30pm)Camp William B. Snyder
Friday 01-14-2022 5:30 PM ET to 8:30 PM ET
Past
---
RESERVED - Pack 717 PWD Session (1-5pm)Camp William B. Snyder
Saturday 01-15-2022 1:00 PM ET to 5:00 PM ET
Past
---
RESERVED - Pack 1601 PWD Session (5:00-8:30pm)Camp William B. Snyder
Saturday 01-15-2022 5:00 PM ET to 8:30 PM ET
Past
---
RESERVED - Pack 1373 PWD Session (1:30-5:30pm)Camp William B. Snyder
Sunday 01-16-2022 1:30 PM ET to 5:30 PM ET
Past
---
RESERVED Pack 152 PWD Session (1:00-5:00pm)Camp William B. Snyder
Saturday 01-22-2022 1:00 PM ET to 5:00 PM ET
Past
---
RESERVED - Pack 1484 PWD Session (1-5pm)Camp William B. Snyder
Sunday 01-23-2022 1:00 PM ET to 5:00 PM ET
Past
---
RESERVED - Pack 152 PWD Session (1-5pm)Camp William B. Snyder
Saturday 01-29-2022 1:00 PM ET to 5:00 PM ET
Past
---
RESERVED Pack 492 PWD Session (8am-noon)Camp William B. Snyder
Saturday 02-05-2022 8:00 AM ET to 12:00 PM ET
Past
---
Reserved - Pack 801 PWD Session (1-5pm)Camp William B. Snyder
Saturday 02-05-2022 1:00 PM ET to 5:00 PM ET
Past
---
RESERVED - Pack 4700 PWD Session (1:00-5:00pm)Camp William B. Snyder
Sunday 02-06-2022 1:00 PM ET to 5:00 PM ET
Past
---
RESERVED - Pack 1683 PWD Session (1-5pm)Camp William B. Snyder
Saturday 02-12-2022 1:00 PM ET to 5:00 PM ET
Past