CANCELLED: Basic Adult Leader Outdoor Orientation (BALOO) / Introduction to Outdoor Leader Skills (IOLS) (Seneca)
Event Details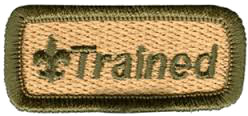 BASIC ADULT LEADER OUTDOOR ORIENTATION (BALOO) (C32)
- and -
INTRODUCTION TO OUTDOOR LEADER SKILLS (IOLS) (S11)
May 6 and May 15-16, 2020

This course provides certification for both Cub Scout/Family Scout (BALOO) and Scout BSA (IOLS) leader's outdoor training requirements. Certification is awarded for card selection made during registration (BALOO and IOLS) upon completion.
Admin...
Registration: (This is key) - record your real BSA number or if you don't have a BSA number - enter 0000 and enter the word Pending in the field below the BSA number on the registration form. This number is used to credit your for the class.
Bring all your completed BALOO and IOLS prerequisite certificates and the new 2019 completed health form to the Wednesday patrol meeting.
Required Paperwork:
Complete and bring the new 2019 Annual Health and Medical Record (Parts A, B1 and B2) and a copy of the front and back of your insurance card to the Wednesday, May 6, meeting.
When/Location:
Indoor Session (Fairhaven) - May 6:
There will be a 2 hour indoor session on Wednesday, May 6 which is required.

Location: Fairhaven United Methodist Church
12801 Darnestown Rd
Gaithersburg, MD 20878
Date/Time: Wednesday, May 6 at 7:30pm

Outdoor Session (Izaak Walton) - May 15-16:
Location: National Izaak Walton League
707 Conservation Lane
Gaithersburg, MD 20878
Date/Time: Friday, May 15 through Saturday, May 16.
- Arrive on Friday by 5:30 PM. (Eat dinner before arriving.)
- Leave on Saturday at 5:30 PM.
From intersection of Great Seneca Hwy and Muddy Branch Rd travel North on Muddy Branch 0.8 mile. IWLA is on the left (requires U-Turn).
Cost:
$40
Who May Attend:
Must be 21 years or older and a registered adult scout. Youth Protection must be current.
This event is being hosted by Seneca District. Attendance is open to all districts.
PRE-REGISTRATION Required!
NO WALK-INS
Registration closes Monday, May 4 (or until class limit is reached)
Class size limit is 32
Uniforming:
This is a uniformed event, if you have one wear it.
Additional Training to complete before attending Wed, May 6:
Important: To receive credit for the course and a training card, you must complete all prerequisites prior to the Wednesday patrol meeting and bring your paper certificates.
Technical Details: For Windows - Use Google Chrome browser; for Macs - Use Safari browser.
BALOO Prerequisites:
Youth Protection Training
Online BALOO Training v2 (modules SCO-280-283) - about 30 minutes)
Hazardous Weather Training (about 30 minutes)
Safe Swim Defense (about 30 minutes)
Safety Afloat (about 30 minutes)
IOLS Prerequisites:
Youth Protection Training
Safe Swim Defense (about 30 minutes)
Safety Afloat (about 30 minutes)
How to Access Prerequisites:
To access the classes - go to my.scouting.org and log on.
- Click on BSA Learn Center (right side red block) - That opens a new tab
- Scroll down to Expanded Learning
- Click on BALOO for the Online BALOO modules
- Click on Program Safety for the last 3 classes
- For each of the two - click on Add Plan (Expect a green success banner)
- Click on the class title
- Select Launch Course for each desired module above
- When finished with each course wait for the music to finish
- To get to the next course hit the back arrow - top right side
KEY: When finished with each course wait for the music to finish and wait to see the Scouting U, Learning, Challenge, Lead Image before you hit the back arrow to take the next course.
Prerequisites Proof of Completion (BALOO & IOLS):
Printed Youth Protection certificate
- If you took YPT in 2018, check your expiration date.
- Retake YPT as required (due every 2 years)
Printed Safe Swim Defense certificate
Printed Safety Afloat certificate
- Bring all to the indoor patrol meeting to show that you have completed the prerequisites.
Additional Prerequisites Proof of Completion (BALOO):
When completed all 8 BALOO online modules:
At the bottom of the page where all 8 courses are listed you will see on the bottom right side View Certificate.
- Click on it and print your certificate
- Bring it to the indoor patrol meeting to show that you have completed the prerequisite.
Without this prerequisite you can not be fully trained. You will also need this as background for the outdoor class.
Program:
Course is organized as a collection of small classes - each focused on an outdoor topic.
Wednesday agenda:
- Risk Management / Health and Safety
- Map and compass
- Assign patrols - each patrol will include Cub Scout and Scouts BSA attendees
- Patrol meeting:
- Coordinate camping and cooking equipment
- Plan menu
- Organize food shopping
Friday agenda:
- Set up camp
- Dinner (Bring with or eat before you come)
- Assembly
- Campfire planning
- Other classes
- Campfire
- Ashes ceremony
- Patrol Leaders Council (PLC)
- Cracker Barrel
Saturday agenda:
- Simple patrol breakfast
- Assembly
- Classes
- Cook & eat lunch (this will be a full cooked meal)
- Classes
- Graduation
- Pack up campsite
- Go home
Class Topics Include:
- Campsite selection
- Safe food handling
- Dutch oven cooking
- First Aid
- Small group games
- Woodsman tools
- Hiking/Backpacking
- Leave no Trace
- Plants & animals
- Outing planning
- Knots & lashings
- Ceremonies
Camping:
You will be camping Friday night. See the equipment section below for a packing list. The entire weekend is outdoors!!!
Friday Night Campfire:
We will be teaching campfire planning and actually having a campfire to practice at. One aspect of our campfire is an "Ashes Ceremony". An Ashes Ceremony is explained here. So, what is the "lineage" of our ashes?
This collection of ashes go back to the very creation. No, not that one. The creation of Scouting. The lineage has campfires with Baden Powell and his wife present, campfires from over 20 countries, most of the US states, ashes from the howitzer shot off at Ronald Ragan's funeral, and much more. The collection even went to the moon and back on an Apollo Mission.
Online BALOO Resources for your Pack
Campout Health and Safety Checklist
Pack Overnighter Site Approval Form
Outdoor events for new Cub Scouts
Individual campout checklist for Pack overnighter
Outdoor Ethics
NCAC Approved BALOO Sites (where can I take my Cub Scouts camping?)
NCAC Cub Scout Camping
Camping
Equipment (Personal):
Shelter: tent and ground tarp
Sleep system: sleeping bag or blankets, pad, pillow? If you don't have a sleeping pad (foam or inflatable) a few extra blankets can be folded to make a pad.
Flashlight
Pocket knife
Compass (if you have one)
Rain gear
Closed toe shoes - no sandals
Warm clothes (check the weather forecast)
Minimal toiletries (Tooth brush etc)
Pen/paper
Eating utensils (plate or bowl, knife/fork/spoon, cup)
Water bottle
Chair (very important for your comfort!)
Equipment (Patrol):
(To be negotiated at Patrol meeting)
Rain fly
Stove
Cook & cleanup gear
Cooler
Available on site:
Potable water
Port-a-pottie
Pavilion (in case of severe weather)
Meals:
Friday - eat dinner before you arrive (or bring with)
Friday evening - Cracker Barrel (Scouts BSA bedtime snack) at pavilion
Saturday breakfast will be prepared in patrols (coffee etc available) at pavilion
Saturday lunch will be prepared in patrols (cooked meal)
What if I don't know how to set up my tent?
No worries. Bring it (make sure you have all the parts) and we will teach you how to pitch it.
Questions?
Course Director - Bill Majurski – oldman99@comcast.net
If you have problems registering, contact the Training Coordinator; Mary Lou Gundersen at 301-869-5625 or mdtrainingrecords@comcast.net
- Day of Event call 301-704-7722
Note: Photos taken at the event are permitted to use for publicity.
Seneca attendees will be added to the NewsFlash.
When & Where
Patrol SessionFairhaven United Methodist Church
Wednesday 05-06-2020 7:30 PM ET to 9:30 PM ET
Past
---
Outdoor SessionNational Izaak Walton League
Friday 05-15-2020 5:30 PM ET to
Saturday 05-16-2020 5:30 PM ET
Past