16th Annual NCAC Scout Orienteering Meet
Event Details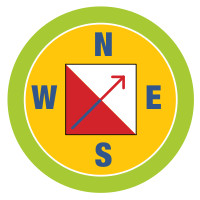 Test out your troop or crew member's navigation skills at this exciting map and compass competition. This year we will only have one event that is designed around competing as a unit (Troop or Crew) to gather the greatest score than the other scouting units called the Score-O. This event is open to all Scouts BSA Troops, Venturing Crews, and other appropriately aged Scouting groups; minimum age for this event is 10 and a half years old.
*******************************************************************
COVID-19 Pre Cautions have greatly altered the way we will run the event this year, please read carefully and be prepared
*******************************************************************
Summary: This event is open to all ScoutsBSA Troops, GSUSA units (ages 10 and up) and Venturing Crews. Scouts MUST be paired up (buddy system applies) and compete as a team of ten youth. Instructional Orienteering coursea will not be available, you can get online training or reference the Orienteering Merit Badge Pamphlet. Additional training recommendations will be listed below. The location is Prince William Forest at the Pine Grove Picnic area. Please be aware that camping is not available in this area of the park this year and there is about a two mile distance to the nearest group camping area.
We will be running only one activity and this will be a 90-minute Orienteering score course. This event is a unit based competition with youth leadership taking charge of their units in planning and directing their teams. Each team will select their start time with their paid registration. Start times are every half hour starting at 8:30 am to 3:30 pm.
REGISTRATION IS REQUIRED --
You must register your troop or crew online in advance to take part by selecting a start time on the right.
Up to two teams may register for the same start time (subject to change based on current state COVID-19 gathering restrictions)
Please be aware that registration is done by unit in teams of ten youth (+2 registered adult leaders supervision).
There is only one event to take part in and registration will include a start time
Each team will be onsite for only a limited time period (not to exceed 2 hours)
Your team may arrive up to 20 minutes before your start time to pick up copies of the map
There is no walk up registration for any unit or scout. There is no individual registration
Everything is done in groups of 10 (or 11 if there is an odd number)
If you have more than ten scouts, you may register two teams and fill each team to ten scout
If you do not have enough scouts to fill your team of 10, you may recruit from other troops or crews, or recruit a future new scout from your community to join your team
Combining of Troops and/or Crews is acceptable and all units that make up a team will be credited in the final score posting.
Refunds may not be given
The event is rain or shine, dress for the weather
Cost is $70 per team of ten youth and includes 12 event patch for all youth participants with two for the adult unit volunteers, five course maps (given upon arrival) and five punch cards for scoring (given at your start time). Additional may purchase patches at cost on the day of the event pending availability.
This event is run with volunteers from and supported by the NCAC and has the added experienced of help from the Quantico Orienteering Club.
Buddy system is strictly enforced all during the event and adults are not permit "in the woods" during the competitions. Unit adult leadership must be available while their youth are taking part in case of any emergencies. Each troop or crew unit will have a unit score from this event based on the average of the unit's top five pairs from that unit.
Please be aware of the park entrance fees.The current fee at Prince William Forrest is $20.00 entrance fee per vehicle, however this fee may be waived if the driver is just dropping off participants and exiting the part immediately. Any enterance fee is not included in the activity fee for this event, please plan ahead and be prepared.
This event is restricted to Scout Troops and Venture Crews only:
Because of the large volume of Scouts attending this event and the level of competition, we cannot accommodate Cub Scouts or Webelos at this event.
Training Opportunities:
We recommend that everyone view the opportunities with the Quantico Orienteering Club, online instruction and information can be found at https://www.qocweb.org/content/discover-orienteering-discover-yourself-your-first-event. Every scout should understand how to use the five key techniques, which is outlined here https://www.qocweb.org/content/five-key-skills-orienteering.
Some recommended training videos available on YouTube are:
Introduction To Orienteering (Quantico Orienteering Club, 15:28)
https://youtu.be/vFJLfLJk9tk
A great introduction of what Orienteering is by the New York Times at:
https://youtu.be/H3TLmTNOb5E
Greater Manchester Orienteering series:
Get out & Go Orienteering
https://youtube.com/playlist?list=PLwQxj0iau_Rfcwa1x0gWNpWE5uAvoOPQs
Start Orienteering
https://youtube.com/playlist?list=PLwQxj0iau_RdRO_H1DJ9xTP9AWVKt_HE6
Think Fast | Run Hard | Go Orienteering
https://youtube.com/playlist?list=PLwQxj0iau_RfjWcf_sX-TgM2yIwbpWO2v
Also go out and participate in any of the Quantico Orienteering club events before our May event:
Saturday, March 20, Mason Neck SP, Mason Neck SP, Lorton, VA
Sunday, April 11, Pohick Bay Regional Park, Shelter 1, Lorton, VA
Sunday, April 18, Lake Needwood, Circle Parking Area, Derwood, MD
Sunday, April 25, Occoquan Regional Park, Shelter 4 Parking Area, Lorton, VA
In planning your event with the Quantico Orienteering club, contact them and follow the instructions posted at https://www.qocweb.org/content/boy-scouts.
When & Where
08:30 Start Time: 2021 Scout Orienteering MeetPrince William Forest National Park
Saturday 05-01-2021 8:30 AM ET to 10:00 AM ET
---
09:00 Start Time: 2021 Scout Orienteering MeetPrince William Forest National Park
Saturday 05-01-2021 9:00 AM ET to 10:30 AM ET
---
09:30 Start Time: 2021 Scout Orienteering MeetPrince William Forest National Park
Saturday 05-01-2021 9:30 AM ET to 11:00 AM ET
---
10:00 Start Time: 2021 Scout Orienteering MeetPrince William Forest National Park
Saturday 05-01-2021 10:00 AM ET to 11:30 AM ET
---
10:30 Start Time: 2021 Scout Orienteering MeetPrince William Forest National Park
Saturday 05-01-2021 10:30 AM ET to 12:00 PM ET
---
11:00 Start Time: 2021 Scout Orienteering MeetPrince William Forest National Park
Saturday 05-01-2021 11:00 AM ET to 12:30 PM ET
---
11:30 Start Time: 2021 Scout Orienteering MeetPrince William Forest National Park
Saturday 05-01-2021 11:30 AM ET to 1:00 PM ET
---
12:00 Start Time: 2021 Scout Orienteering MeetPrince William Forest National Park
Saturday 05-01-2021 12:00 PM ET to 1:30 PM ET
---
12:30 Start Time: 2021 Scout Orienteering MeetPrince William Forest National Park
Saturday 05-01-2021 12:30 PM ET to 2:00 PM ET
---
13:00 Start Time: 2021 Scout Orienteering MeetPrince William Forest National Park
Saturday 05-01-2021 1:00 PM ET to 2:30 PM ET
---
13:30 Start Time: 2021 Scout Orienteering MeetPrince William Forest National Park
Saturday 05-01-2021 1:30 PM ET to 3:00 PM ET
---
14:00 Start Time: 2021 Scout Orienteering MeetPrince William Forest National Park
Saturday 05-01-2021 2:00 PM ET to 3:30 PM ET
---
14:30 Start Time: 2021 Scout Orienteering MeetPrince William Forest National Park
Saturday 05-01-2021 2:30 PM ET to 4:00 PM ET
---
15:00 Start Time: 2021 Scout Orienteering MeetPrince William Forest National Park
Saturday 05-01-2021 3:00 PM ET to 4:30 PM ET
---
15:30 Start Time: 2021 Scout Orienteering MeetPrince William Forest National Park
Saturday 05-01-2021 3:30 PM ET to 5:00 PM ET