SCUBA Diving Merit Badge Counseling Session 8/26/2018
Event Details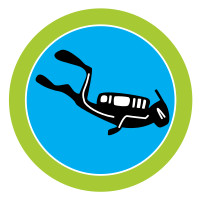 Scuba diving merit badge session only - $5
Counseling session only - 8/26/2018, 4-6pm
Prerequisites:
• Purchase and Read the SCUBA Merit Badge Book
• SCUBA certification Required: #4 of merit badge requirements - "Earn an Open Water Diver Certification from a scuba organization recognized by the Boy Scouts of America scuba policy".
http://meritbadge.org/wiki/index.php/Scuba_Diving
The Merit Badge Counseling Session is available to any other Scouts who are already Scuba certified.
To earn your Scuba certification, register using this link:
https://scoutingevent.com?ScubaCertification

This event is limited to 36 Boy Scouts.
AB Sea's Diving
10416 Hampton Road
Fairfax Station, Virginia 22039
Click Here to see other NCAC Aquatic Training and Fun Events!
When & Where
SCUBA Diving Merit Badge Counseling SessionAB Sea's Diving
Sunday 08-26-2018 4:00 PM ET to 6:00 PM ET
Past