OA Nentego Lodge Spring Weekend
Event Details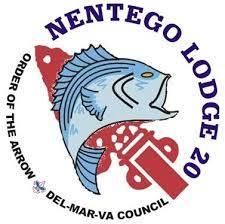 2024 OA Spring Weekend
Henson Scout Reservation
Come and join the Lodge for a weekend of fellowship, ceremonies and meaningful service projects!
******All attendees should bring 1 non-perishable food item for donation to a
Food Pantry that is local to camp as a part of Nentego Lodge's effort to support local organizations.************
This weekend is open to all current members, those newly elected to complete their Ordeal
and to current Ordeal members who wish to seal their membership by taking the Brotherhood.
Bring a COPY of your medical Health form; Only Parts A&B are needed. DO NOT BRING THE ORIGINAL AS THEY WILL NOT BE RETURNED.
Weekend Camp Fees for Members - $25
Weekend Camp Fees after April 5, 2024 - $30

Ordeal Candidate Fee - $80 (includes the following 2024 Lodge Dues ($25), Ordeal Weekend Camp fee ($25), Ordeal Sash ($20),
OA Handbook ($4), 2 Nentego Lodge Official Flap, and Brotherhood Sash & Conversion Fee ($20) is included if completed within 2 years)
Late fee will apply after April 5, 2024.
Please also read the Ordeal Candidate Letter from our Lodge Chief that you received at the time of your election callout.
**Brotherhood Conversion Fee - If you are taking your Brotherhood within 2 years of taking your Ordeal (Spring 2022-Present), your conversion fee is covered.
You still have to pay the weekend camp fees of $25.
If you are taking your Brotherhood over 2 years after taking your Ordeal (before Spring 2022), you must pay the $20 Brotherhood Conversion fee plus the weekend camp fees.
Please email Geoffrey Parrett at geoffreyparrett@outlook.com with any food restrictions or allergies no later than seven (7) prior to the weekend.
When & Where
Henson Scout Reservation
Friday 04-19-2024 5:00 PM ET to
Sunday 04-21-2024 11:00 AM ET