OA Nentego Lodge Leadership Development (LLD)
Event Details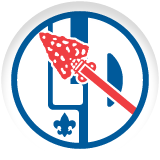 Whether you have just been initiated into the Order of the Arrow and are trying to make new friends, or you have been active in the Order of the Arrow for years and want to relax, the Lodge Leadership Development is an event for all. The Lodge Leadership Development is NOT like any other training you have attended in the past for Boy Scouts. It not only develops your leadership skills but also your friendships in the Lodge. Program leaders have access to many helpful trainings that will not disappoint.
This training activity will be held at the Chesapeake College, Wye Mills, MD. The address is 1000 College Cir, Wye Mills, MD 21679.
It is highly recommended that all Lodge Leadership members from chapter officers up to lodge officers and all committee members as well as anyone who may be interested in a lodge position in the future can attend.
This event is free of charge to Lodge members.
When & Where
Chesapeake College
Saturday 01-28-2023 9:00 AM ET to 3:00 PM ET
Past