2021 Wilderness First Aid - April 9-11
Event Details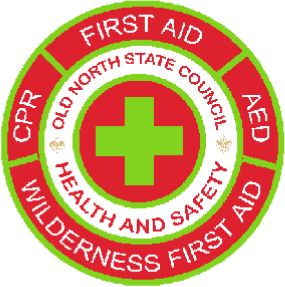 Wilderness First Aid
The Old North State Council provides Wilderness First AId training through a partnership with the Emergency Care & Safety Institute.
Wilderness First Aid (WFA) includes the practical application of knowledge and skills through classroom participation, group activities, and scenarios.
WFA is especially recommended for those planning and participating in activities where advanced medical care is delayed, or for backcountry or high adventure activities.
It is appropriate for Cub Scout, Scouts BSA, Venturing, and Sea Scout unit activities as well as high adventure activities where "definitive care by a physician and/or rapid transport is not readily available."
The primary purpose of this course is to provide a certification opportunity to those adult leaders participating in high adventure expeditions in Summer 2021.
WFA certification is valid for two years and must accompany a current adult CPR with AED certification.
Pre-requisites
Participants must hold a current adult CPR with AED certification through Emergency Care and Safety Institute, American Red Cross, American Heart Association, or another nationally recognized provider.
Those not holding a current CPR with AED certification cannot participate.
Course Dates: April 9 - 11, 2021
The course starts at 7:00 pm on Friday, 4/9 and ends at 1:00 pm on Sunday, 4/11.
Course fee: $100
The course fee covers instructional materials, meals, COVID-19 mitigation supplies.
Meals begin with cracker barrel on Friday night and end with Sunday breakfast.
Registration closes on Thursday, March 25 at 11:59 pm.
Participants must submit Parts A and B of the BSA Annual Health & Medical Form during check-in.
Other General Information
This course will be conducted entirely outside to allow a larger class size under Covid-19 restrictions
Come prepared for the weather. We will be under shelters for some classes, but scenarios will take place in the weather conditions present at that time.
We will be providing hot meals, but this will probably be served outside in the course area unless Covid-19 conditions change.
Participants will sleep in adirondacks.
Class size is limited to 24.
This session is not open to youth participants.
Certification cards will be emailed to participants 2 weeks after the course is over.
Participants will receive a resource questionnaire prior to the course. Course Director Mickey McCrary will send the questionnaire via email.
Send questions to Course Director Mickey McCrary at jmmccrary1952@gmail.com.
When & Where
Cherokee Scout Reservation
Friday 04-09-2021 7:00 PM ET to
Sunday 04-11-2021 1:00 PM ET
Past