Basic Adult Leader Outdoor Orientation (BALOO) 2022
Event Details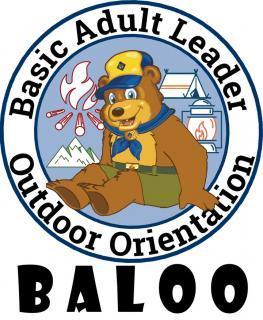 Basic Adult Leader Outdoor Orientation
(BALOO)
Dates: Choose 1
Option
Date
Registration Deadline
Location

1

April 1-2

Tuesday, March 29 at 11:59 pm

Hagan Sea Base

781 Scout Road

Lexington

2

May 13-14

Tuesday, May 10 at 11:59 pm

Cherokee Scout Reservation

3296 Boy Scout Camp Road

Yanceyville

3

August 26-27

Tuesday, August 23 at 11:59 pm

Hagan Sea Base

781 Scout Road

Lexington

4

September 30 - October 1

Tuesday, September 27 at 11:59 pm

Hagan Sea Base

781 Scout Road

Lexington
Cost: $40
A BALOO-trained leader is required for every pack camping event.
BALOO is divided into two parts:
Part 1: An online module that must be completed prior to arriving at camp.

Part 2: Instructor-led that occurs face-to-face at camp.
​Part 1: Online Pre-requisite Portion
This handout shows you how to access the BALOO online component in My.Scouting.

You must complete the online portion prior to arriving at camp.

The internet connectivity at camp is not strong enough to support this video-heavy training.

Print a copy of your certificate of completion and bring it with you to the face-to-face portion.
​Part 2: Instructor-Led Portion
The instructor-led portion of BALOO is a one-and-a-half-day course designed as an introduction to the Cub Scout outdoor program combining both indoor classroom work with some hands-on outdoor program ideas.

The purpose is to introduce Cub Scout leaders to pack overnight camping as well as Webelos leaders to den campouts by providing fun ways to inspire positive experiences for all in the pack.

The camp gates will open at 5:30 pm to allow participants time to set up their tent during daylight. The opening ceremony will begin at 6:30 pm.

Please eat before coming as dinner is not provided

; however, we will have a late cracker barrel (snacks).

A list of suggested equipment is provided below.

Uniform for the day is Field Uniform/Class A.

Cost covers Friday night cracker barrel, Saturday breakfast and lunch, handouts, use of the camp, snacks, training cards, program materials, and registration.

Please indicate your dietary needs on the registration page. People with dietary needs may want to bring a few snacks to supplement their meals to ensure their dietary needs are met.
Required Forms:
Certificate of Completion of BALOO Online Portion
​Packing List:
• Tent, ground cloth, tarp (No hammocks)
• Sleeping bag
• Sleeping pad or mattress
• Sturdy shoes – no open toe shoes
• Change of clothes
• Sleeping attire
• Mess kit (plate, cup, eating utensils)
• Soap, washcloth, towel
• Sunglasses
• Camp chair
• Camera
• Notebook, pen, pencil
• Coat jacket, cap, and gloves
• Cub Scout Six Essentials
Filled water bottle

First-aid kit

Flashlight

Trail food

Sun Protection (SPF 15 or greater)

Whistle
In a day pack, include your Cub Scout Six Essentials plus rain gear, notebook, pen, pencil, and mess kit.
Required FACE MASK to be worn unless outdoors and are able to social distance 6ft.
If using C-Pap you will need to bring a 50ft electric cord.
Direct Questions To:
BALOO Course Director Sharon Hamlett at hamlett@centurylink.net

BALOO Staff Adviser Ann Jones at ann.jones@scouting.org.

Training Staff Adviser Bud Harrelson at bud.harrelson@scouting.org
When & Where
April 2022Hagan Sea Base
Friday 04-01-2022 5:30 AM ET to
Saturday 04-02-2022 6:00 PM ET
Past
---
May 2022Cherokee Scout Reservation
Friday 05-13-2022 5:30 PM ET to
Saturday 05-14-2022 6:00 PM ET
Past
---
August 2022Hagan Sea Base
Friday 08-26-2022 5:30 PM ET to
Saturday 08-27-2022 6:00 PM ET
Past
---
September 2022Hagan Sea Base
Friday 09-30-2022 5:30 PM ET to
Saturday 10-01-2022 6:00 PM ET