Event Details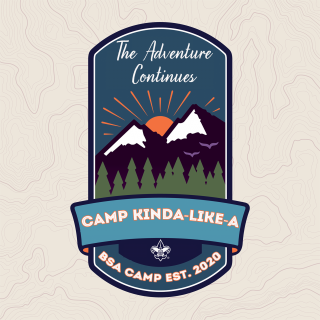 10 Weeks of Scout Program!
Sessions start June 15th Monday-Friday
For Cubs and their friends we are offering a weekly experience over the summer that combines traditional program with a virtual experience! Each week we will offer a different rank appropriate adventure and activities. The theme this summer is Adventures Through Time, so get ready to hop into your time machine and enjoy a different adventure each week.
Basic Daily Schedule ( all times are based in Eastern Time Zone)
8:45am - 8:55am: Cub Scout Flag Raising and Opening
9am - 11am: Cub Scout Adventures
11:30am - 11:45am: Scouts,BSA Opening
12pm - 5pm: Scouts, BSA Merit Badges
Both programs will include:
Special guest speakers, Campfire programs, Cooking, and Camping experiences.
Cub Scout specifics include:
Ability to earn two Adventures per week
Daily activities (crafts and small projects)
*scroll down for the pdf of the weekly advancement schedule
Welcome letters containing camp information and all zoom links for the week will be emailed out to all families on the Saturday prior to camp.
When & Where
Week 1Council Service Center
Monday 06-15-2020 12:00 AM ET to
Friday 06-19-2020 11:59 PM ET
Past
---
Week 2Council Service Center
Monday 06-22-2020 12:00 AM ET to
Friday 06-26-2020 11:59 PM ET
Past
---
Week 3Council Service Center
Monday 06-29-2020 12:00 AM ET to
Friday 07-03-2020 11:59 PM ET
Past
---
Week 4Council Service Center
Monday 07-06-2020 12:00 AM ET to
Friday 07-10-2020 11:59 PM ET
Past
---
Week 5Council Service Center
Monday 07-13-2020 12:00 AM ET to
Friday 07-17-2020 11:59 PM ET
Past
---
Week 6Council Service Center
Monday 07-20-2020 12:00 AM ET to
Friday 07-24-2020 11:59 PM ET
Past
---
Week 7Council Service Center
Monday 07-27-2020 12:00 AM ET to
Friday 07-31-2020 11:59 PM ET
Past
---
Week 8Council Service Center
Monday 08-03-2020 12:00 AM ET to
Friday 08-07-2020 11:59 PM ET
Past
---
Week 9Council Service Center
Monday 08-10-2020 12:00 AM ET to
Friday 08-14-2020 11:59 PM ET
Past
---
Week 10Council Service Center
Monday 08-17-2020 12:00 AM ET to
Friday 08-21-2020 11:59 PM ET
Past