Barry E. Grant Memorial Fishing Derby @ J.N. Webster
Event Details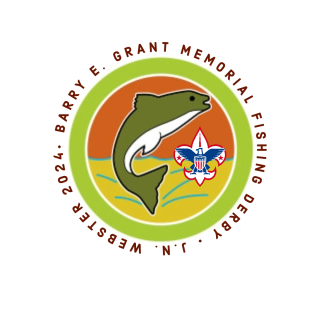 Barry E. Grant Memorial
Fishing Derby
Open to: Cub Scouts, Scouts, Scouting families, and friends
SAVE-THE-DATE
Saturday, May 18, 2024
9:00 AM – 11:45 AM
Breakfast opens at 7:45 AM

June Norcross Webster Scout Reservation
231 Ashford Center Road, Ashford, Connecticut 06278
(Check-in on the Dining Hall Deck/Porch)
For $13, you will get a commemorative decal, a hearty fisherman's pancake breakfast with sausage and a beverage, and a morning of fishing with a two-fish limit. Prizes will be awarded. Breakfast will be available for $7 to anyone who wants to participate but not fish. The Fisherman's Breakfast runs from 7:45 AM to 9:15 AM.
Tent campsites (bring your own tent and equipment) are free of charge for those participating in the derby and can be reserved by emailing Chief Campmaster Sue Phillips at sjphillips13@gmail.com and Event Chairman Andrew Houle at ahoule1@yahoo.com
VIEW the Video from the 2023 Derby!
When & Where
Fishing DerbyJ.N. Webster Scout Reservation
Saturday 05-18-2024
9:00 AM ET to 11:45 PM ET