Polar Cubs @ J.N. Webster
Event Details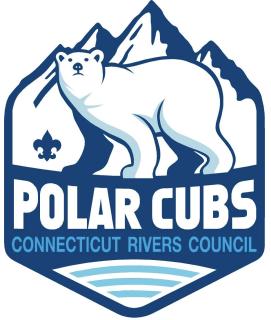 Polar CUBS @ JNW
Calling all Polar Cubs for this exciting adventure run by the Outdoor Program Team. This winter, we will offer awesome activities for Cubs and friends! Cubs will work on craft adventures, BB, Archery, winter activities, and possibly sledding. Each Saturday will run from 9 a.m. to 3 p.m., and lunch will be provided. Check-in will open at 8:15 am, and the program at 9 AM. Indoor activities will be available to warm up, but please dress for the weather. Please bring a Health Form A&B for all Cubs and Adults for check-in.
Polar Cubs is open to all Cub Scouts and their families.
We suggest a minimum of 1 adult for every two children.
WHAT SHOULD I BRING TO CAMP?
Polar Cubs is a single-day program - however, due to the unpredictable nature of our winter weather, we encourage everyone to dress in layers and maybe bring extra layers just in case! Jack Frost won't keep us down - to make sure you don't miss out on any of the arctic activities, we recommend you have the following layers:
The base layer - AVOID COTTON fabrics touching your skin! Cotton will absorb water, which can quickly turn into cold toes and fingers! We recommend synthetic fibers such as polyester and nylon.
Warmth Layer - This will be where the bulk of your warmth comes from. We recommend fabrics such as wool, polar fleece, or flannel. This is the perfect opportunity to dig out the ugly Christmas sweaters and fuzzy pajama pants!
Wind/Water Layer - Your outermost layer should be wind and waterproof. Most jackets and snow pants have this built-in - but if not, you can throw a rain jacket over the top of a fleece jacket for the same effect!
Please also make sure that everyone has a water bottle. You will be doing a lot of moving around, and it is just as easy to get dehydrated in the winter as in the warm summer months! We also suggest a small backpack to carry water and extra items.
COST:
$35 Per Youth partisipant & $10 Per Adult
In 2023, Polar Cubs SOLD OUT, so act fast before the event fills up.
Feel Free to Email Jenny at

cubdaycamp@gotowebster.org

with questions or dietary restrictions.
JUNE NORCROSS WEBSTER SCOUT RESERVATION
231 Ashford Center Road - Ashford, Connecticut 06278
When & Where
JanuaryJ.N. Webster Scout Reservation
Saturday 01-27-2024
12:00 AM ET to 11:59 PM ET
---
FebruaryJ.N. Webster Scout Reservation
Saturday 02-17-2024
12:00 AM ET to 11:59 PM ET