2022 Workcoeman Summer Day Programs
Event Details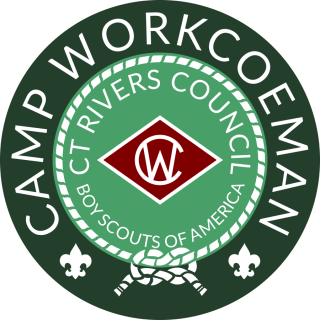 Workcoeman Adventures
Outdoor Skills Week #1: July 4-8, 2022
Aquatics Week #1: July 11-15, 2022
Outdoor Skills Week #2: July 25-29, 2022
Aquatics Week #2: August 1-5, 2022

The innovative and highly successful 'A La Carte' program model at Camp Workcoeman is back again for 2022. This program
allows Scouts the flexibility of experiencing a summer Scouting Program, whether it be as an individual, with their troop or with
their family. This program offers a variety of programs, meant to appeal to Scouts of various ages and ranks. Options for Scouts include:
- Individual Scout– Scouts can attend for the day and
participate in the camp's merit badge program. Lunch will be
served as part of the merit badge program.

- Unit Overnight Camping–Troops can choose to rent a
campsite, have Scouts participate in merit badges and
reserve a program area during times available.

- Family Camping– Families can reserve a campsite in our
deluxe family campsite featuring 'family sized' tents, cots
and adirondack chairs. Scouts can then sign up to
participate in the merit badge program during the day.
To reserve a campsite click here: https://campreservation.com/066/Camps/636
When & Where
Outdoor Skills Week 1 - July 4-5thCamp Workcoeman
Monday 07-04-2022 9:00 AM ET to
Tuesday 07-05-2022 4:00 PM ET
Past
---
Outdoor Skills Week 1 - July 6Camp Workcoeman
Wednesday 07-06-2022 9:00 AM ET to 4:00 PM ET
Past
---
Outdoor skills Week 1 - July 7-8Camp Workcoeman
Thursday 07-07-2022 9:00 AM ET to
Friday 07-08-2022 4:00 PM ET
Past
---
Aquatics Week 1 - July 11-12Camp Workcoeman
Monday 07-11-2022 9:00 AM ET to
Tuesday 07-12-2022 4:00 PM ET
Past
---
Aquatics Week 1- July 13Camp Workcoeman
Wednesday 07-13-2022 9:00 AM ET to 4:00 PM ET
Past
---
Aquatics Week 1 - July 14-15Camp Workcoeman
Thursday 07-14-2022 9:00 AM ET to
Friday 07-15-2022 4:00 PM ET
Past
---
Outdoor Skills Week 2 - July 25-26Camp Workcoeman
Monday 07-25-2022 9:00 AM ET to
Tuesday 07-26-2022 4:00 PM ET
Past
---
Outdoor Skills Week 2 - July 27Camp Workcoeman
Wednesday 07-27-2022 9:00 AM ET to 4:00 PM ET
Past
---
Outdoor Skills Week 2 - July 28-29Camp Workcoeman
Thursday 07-28-2022 9:00 AM ET to
Friday 07-29-2022 4:00 PM ET
Past
---
Aquatics Week 2 - August 1-2Camp Workcoeman
Monday 08-01-2022 9:00 AM ET to
Tuesday 08-02-2022 4:00 PM ET
Past
---
Aquatics Week 2 - August 3Camp Workcoeman
Wednesday 08-03-2022 9:00 AM ET to 4:00 PM ET
Past
---
Aquatics Week 2 - August 4-5Camp Workcoeman
Thursday 08-04-2022 9:00 AM ET to
Friday 08-05-2022 4:00 PM ET
Past