Event Details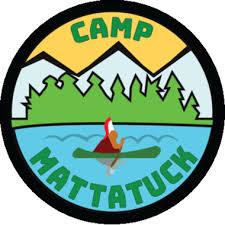 Mattatuck Fall Camp
September 10-12
Fee: $40 per day / $60 for two days
For: Scouts BSA / day program with merit badge offerings
Lunch provided, troops may rent tent camp, but other meals are not provided. Individual Scouts can participate as day campers.
Scouts BSA Fall Day Camp
Brought to you by Camp Mattatuck and Camp Kinda-Like-A, the second-annual Fall Camp Experience is designed to emulate all things we love about Summer Camp! The program will run for two days on Saturday, September 11th to Sunday the 12th. . The program will feature the ability for scouts to earn merit badges and participate in the same open programs they have come to love during our regular summer camp season. A handful of Merit Badges will be added to this Fall Experience that is not regularly offered over the summer season, including several virtual and hybrid badges. Scouts can participate as a troop in this experience or on a provisional platform; meaning Scouts will sign up as individuals. This program aims to keep the Scouting Spirit alive in all of us and offer a camping experience for all our Scouts and Scouters.
New to this year, we allow units to camp and experience the program for the entire weekend. We are asking all Units interested to please rent a campsite for the weekend. Sign-up all participating scouts with A Rolling Lunch will be provided for all scouts on Saturday day, similar to the 2021 Summer Camp experience.
Session: September 11th-12th
Saturday Schedule
8:30am: Arrival
8:45am: Flag and Opening
9:00-11:00am: Merit Badge - Block A
11:00am-1:00pm: Lunch/Open Program
1:00pm-3:00pm: Merit Badge - Block B
3:00pm-4:30pm: Open Program
4:45pm: Closing and Flag
Sunday Schedule
8:30am: Arrival
8:45am: Flag and Opening
9:00-11:00am: Merit Badge - Block C
Please bring with you a BSA health form (part A and B) and the BSA Pre-event Medical screeing checklist (found on the Covid page of the CTScouting.org).
When & Where
SaturdayCamp Mattatuck
Saturday 09-11-2021 9:00 AM ET to 4:00 PM ET
Past
---
Saturday and SundayCamp Mattatuck
Saturday 09-11-2021 9:00 AM ET to
Sunday 09-12-2021 3:00 PM ET
Past
---
SundayCamp Mattatuck
Sunday 09-12-2021 9:00 AM ET to 3:00 PM ET
Past