Fall OA Lodge Inductions Weekend - Workcoeman
Event Details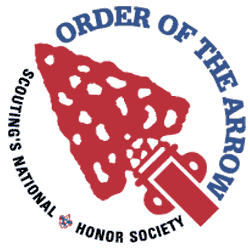 Order of the Arrow - September Tschitani Lodge Inductions & Fellowship Weekend
Camp Workcoeman, New Hartford CT
Septemeber 17-19, 2021
Induction weekends are the largest lodge events of the year. During these weekends we welcome new members into the Order of the Arrow, provide much needed service to the camps and gather with our current members for Fun and Fellowship.
NOTE: The Weekend will be COVID compliant and follow all BSA, CDC & State of Connecticut capacities and rules applicable in Septemeber of 2021. Specific modifications and rules will be communicated to all participants no later than the weekend before the event after consulting with the Connecticut Rivers Council Enterprise Risk Management Committee & Scout Executive.
The purpose of the Ordeal is to have candidates reflect on their own Scout life and character and come to a deeper understanding of the Scout Oath and the Order's principles. This purpose is realized through a fourfold Ordeal that includes sleeping alone, silence, work, and a limited amount of food. No hazing or endangerment of a Scout's safety is allowed.
Newly elected candidates for membership in the Order of the Arrow must complete the Ordeal and be inducted into the OA by the lodge that serves the council in which the unit is chartered. This allows the candidates to bond with their contemporaries as they go through the Ordeal and creates a positive leadership environment in which they can progress.
If you have been an Ordeal Member of the Lodge for 6 months, the Induction Weekend is the perfect opportunity to seal your membership in the Lodge by becoming a Brotherhood Member. Sign-up as a Brotherhood Candidate (additional $10 cost is for your new sash), then come to the weekend to help out and learn more about the OA, ending with your induction ceremony.
After the Ceremonies on Sat night, all Brothers will gather for Food! Fun! and Fellowship!
Registration Fees:
OA Candidate - $50 (covers 2021 dues, sash, book, Lodge flap and food & fun for the weekend)
Brotherhood Candidate - Adult - $30 (covers sash, food and fun for weekend)
Brotherhood Candidate - Youth - $20 (covers sash, food and fun for weekend)
Current Brother of the Lodge - Adult - $20 (covers food and fun for the weekend)
Current Brother of the Lodge - Youth - $10 (covers food and fun for the weekend)
2021 Tschitani Ticketholder - $0 - (covered by Ticket, but you MUST register)
Individual Meals - $5 - can't be with us the entire weekend, but still want to help out? Register for the meals you will be around for during the weekend (after selecting the number of meals, the next screen will show your options)
When & Where
Camp Workcoeman
Friday 09-17-2021 6:00 PM ET to
Sunday 09-19-2021 9:30 AM ET
Past