HAT: Basic Backpacking Course
Event Details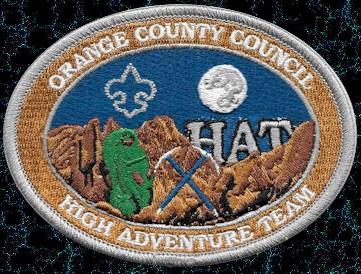 ORANGE COUNTY COUNCIL HIGH ADVENTURE TEAM
ADULT LEADER BASIC BACKPACKING COURSE
CLASSROOM FEBRUARY 24-25, 2023
PLUS, WEEKEND OVERNIGHTER WITH INSTRUCTORS
THREE PART COURSE
Part 1 – OUTDOOR CLASSROOM TRAINING (FRIDAY NIGHT FEBRUARY 24, 6:00-9:00 pm VIRTUAL PRESENTATION and SATURDAY DAY FEBRUARY 25, 7:00 am-5:00 pm OUTDOOR SESSIONS). Outdoor classroom training will be conducted at the IRVINE RANCH OUTDOOR EDUCATION CENTER, 2 Irvine Park Road, Irvine, CA 92869, and consists of demonstrations and equipment and implementing "High Adventure" into your unit, round robins covering backpacks, tents, clothing, footwear, sleeping systems, stoves and cook gear, wilderness electronics, backpack cooking and food, water treatment, map and compass, critter encounters and food protection, planning a backpack with Scouts including adult leadership
Part 2 – DAY HIKE WITH INSTRUCTORS (Sunday, February 26). The day hike will include map and compass fieldwork.
Part 3 – WEEKEND OVERNIGHTER WITH INSTRUCTORS (dates throughout March and April TBD). For dates and details, go to the OCC-HIGH ADVENTURE TEAM WEBSITE. Dates will be set by February 1, 2023.
COURSE COST: $85…roster limited to the first 35 students who sign up…openings as cancellations occur.
OCC-HIGH ADVENTURE TEAM WEBSITE for detailed information: https://occhat.org
Contact Course Director Donovan Anderson at DandersonBSA@yahoo.com with questions.
When & Where
Outdoor ClassroomIrvine Ranch Outdoor Education Center
Friday 02-24-2023
6:00 PM PT to 9:00 PM PT
Past
---
Outdoor ClassroomIrvine Ranch Outdoor Education Center
Saturday 02-25-2023
7:00 AM PT to 5:00 PM PT
Past
---
Day HikeTBD
Sunday 02-26-2023
7:00 AM PT to 3:00 PM PT
Past
---
Overnighter TBD March/AprilTBD
Friday 03-03-2023 7:00 AM PT to
Sunday 03-05-2023 3:00 PM PT
Past