Introduction to Leadership Skills for Troops (ILST) at Camp Trask
Event Details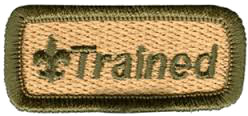 $55/scout 9am-2pm/lunch provided
This is an introduction to leadership skills for YOUTH in troops.
(We may also be able to accommodate crew and ship members, please email the event contact to confirm.)
NOTE: This training is REQUIRED before attending NYLT.
**The course in JULY is part of the Trail to First Class program offered July 19-21.**
Please note: any refunds WILL incur a fee! Be careful what you sign up for.
75% OF TOTAL REGISTRATION WILL BE REFUNDED; 30 DAYS OUT OR MORE FROM EVENT START DATE
50% OF TOTAL REGISTRATION WILL BE REFUNDED; 15 DAYS TO 29 DAYS OUT FROM EVENT START DATE
25% OF TOTAL REGISTRATION WILL BE REFUNDED; 14 DAYS OR LESS FROM EVENT START DATE
When & Where
December 9thTrask Scout Reservation
Saturday 12-09-2023
9:00 AM PT to 2:00 PM PT
---
Trask Scout Reservation
Saturday 12-03-2022
9:00 AM PT to 3:00 PM PT
Past
---
December 17thTrask Scout Reservation
Saturday 12-17-2022
9:00 AM PT to 3:00 PM PT
Past
---
January 14thTrask Scout Reservation
Saturday 01-14-2023
9:00 AM PT to 3:00 PM PT
Past
---
February 4thTrask Scout Reservation
Saturday 02-04-2023
9:00 AM PT to 3:00 PM PT
Past
---
March 11thTrask Scout Reservation
Saturday 03-11-2023
9:00 AM PT to 3:00 PM PT
Past
---
April 29thTrask Scout Reservation
Saturday 04-29-2023
9:00 AM PT to 3:00 PM PT
Past
---
August 26thTrask Scout Reservation
Saturday 08-26-2023
9:00 AM PT to 2:00 PM PT
Past