2020 Virtual STEM Merit Badge Midway *SOLD OUT*
Event Details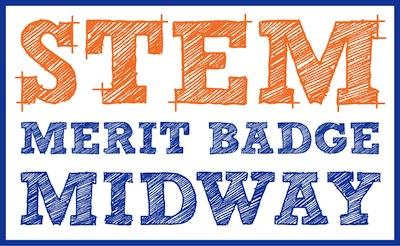 *SOLD OUT*
A VIRTUAL event for Scouts to earn STEM-related merit badges.
STEM = Science, Technology, Engineering, Mathematics
Note: *Due to limited availbility of classes we are only allowing this registration to register one Scout for one Class. If you have siblings you will have to fill it out multiple times and we are sorry for the inconvinence but apperciate your understanding.* Please do make multiple registrations for your one Scout. This is different from the regular Merit Badge Midway coming in February.
Choose an A.M. or P.M. session of these 2020 classes:
Animation
Astronomy
Chemistry
Energy
Engineering
Fingerprinting (Fingerprinting in the PM session will be broken up into two separate classes in the afternoon)
Nuclear Science
Signals, Signs and Codes.
Registration Starts:
October 19, 2020 at 9:00am
Course descriptions and prerequisites
Click Class Catalog under "Attachments" for course descriptions and prerequisites.
Blue Card Info:
We will be using a digital blue card for the Merit Badge Midway. Click "PacSky Midway blue card fillable" under "Attachments" to download it. Scouts should follow the instructions printed on the blue card to get it signed by a Scoutmaster prior to the Midway.
Questions? Click "Contact."
When & Where
2020 Virtual STEM MB MidwayVirtual
Saturday 12-05-2020 8:30 AM PT to 3:30 PM PT
Past