2021 STEM Merit Badge Midway
Event Details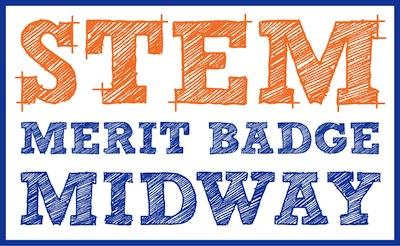 A 1-day event for Scouts to earn STEM-related merit badges.
(STEM = Science, Technology, Engineering, Mathematics)
This is different from the regular Merit Badge Midway coming in February.
Registration Starts: Monday, October 25 at 9AM.
Registration Closes: Friday, October 29 at 5PM.
Cost: $45 (up to two classes)
Choose from:
Astronomy
Chemistry
Digital Technology
Energy
Engineering
Fingerprinting
Insect Study
Nuclear Science
Signs, Signals, Codes
Each merit badge is offered in the morning session and the afternoon session.
Prerequisites
Looking for the prereqs for each class? Click on "STEM Merit Badge Midway Class Catalog" under "Attachments."
Questions? Click "Contact."
When & Where
Virtual
Saturday 12-04-2021 8:30 AM PT to 3:30 PM PT
Past