November Virtual Den Meetings by Rank
Event Details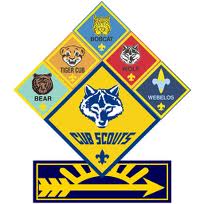 Virtual Cub Scout Den Meetings by Rank
Here at the Pacific Skyline Council we understand that all parents have a lot going on right now. Schools are closed, meetings are being postponed or held online, and families are spending more time together at home. But that doesn't mean Scouting has to stop--especially for our Cub Scout families!
We want to lend a helping hand to those families and packs that are struggling and finding it hard to run den meetings lately for their sons and daughters. We don't want your Cubs to miss out on a year of this great program!
We invite your Cubs to come online and join us for Virtual Den Meetings by rank twice a month!
Sign up now to help your Cub Scout continue progressing through this program during these difficult times.
Spaces are limited so please sign up quickly!
The Cub Scout program is still a Family program so parents and/or guardians are still expected to be monitoring these meetings and may even need to help with some take-home activities to complete the Adventure we will be working on each month. However, we will keep take-home activites as minimal as possible.
NOVEMBER DATES: (Meetings start at 7pm unless otherwise noted)
Tigers - November 2 and 16 - Earing your Stripes Adventure
Wolves - November 4 and 18 - Collections and Hobbies Adventure
Bears - November 9 and 30- Robotics Adventure
Webelos and AOLs - November 11 and December 2 - First Responder
Note: Signing up for the first class will automatically will register you for the second class that month
We expect a great demand for these classes and want to offer more but we need your help! If you would like to help lead a class please let us know!
Questions? Please, contact andrew.wilmes@scouting.org
And stay tuned to the weekly "Scouting News You Can Use" emails for more activities!
When & Where
Tiger Earning your Stripes AdventureVirtual
Monday 11-02-2020 7:00 PM PT to 8:00 PM PT
Past
---
Wolves Collections and Hobbies AdventureVirtual
Wednesday 11-04-2020 7:00 PM PT to 8:00 PM PT
Past
---
Bears Robotics AdventureVirtual
Monday 11-09-2020 7:00 PM PT to 8:00 PM PT
Past
---
Webelos / AOLs First Responder AdventureVirtual
Wednesday 11-11-2020 7:00 PM PT to 8:00 PM PT
Past