Memorial Day Flag Decoration
Event Details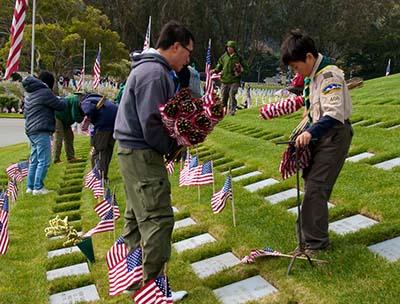 Memorial Day Grave Decoration
Come place flags at Golden Gate National Cemetery to pay tribute to the men and women who have made the ultimate sacrifice in defense of our country.
For over 70 years, Scouts around the country have been helping to honor our country's fallen. It all began in 1949 when Scouts in the Greater St. Louis Council decorated the 190,000 graves at Jefferson Barracks National Cemetery with miniature US flags. Since then, it has become one of the largest service projects in the country.
Locally, the Golden Gate National Cemetery was first opened in 1941 and is one of 131 National cemeteries in 39 states. It is the final resting place of 15 Medal of Honor recipients, Congressman Leo Ryan, and Admiral Chester W. Nimitz, commander of the US Pacific Fleet during World War II. Each year, Scouts, Scouters, veterans and other community groups from all over the Bay Area gather in tribute to these gallant men and women who have made the ultimate sacrifice in defense of our country.
---
Please note that the registration says "individual" but it will ask for a headcount for your unit as well as other unit-specific information.
If NOT a Scouting Group, Just enter in the Group Text Field.
You can still register to participate through May 25 at 11:59pm.
Patch Orders: Orders for patches need to be completed before 11:59pm on June 6, 2023.
Flag Planting: Memorial Day Saturday
7:15am Check-in begins. Only ONE member of your group should check-in. Check-in will be by Council/District.
8:00am Flag Placement Begins
Please note there will not be an opening ceremony as in previous years. We will set a predesignated time for all of us to salute the flag as it is being raised and a moment for you and your unit to reflect on the importance of Memorial Day.
Flag Pick-up: the Saturday following Memorial Day
Registration Tip: All participants and units are to register by way of individual registration. The registration will ask for the quantity of your group and unit information.
Don't forget to log your service hours in Scoutbook advancement.
Questions? Click "Contact."
When & Where
Grave DecorationGolden Gate National Cemetery
Saturday 05-27-2023
7:00 AM PT to 2:00 PM PT
Past