Event Details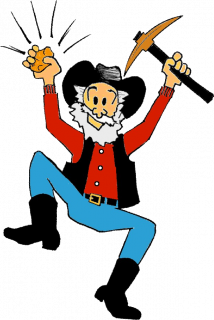 Gold Rush Adventure! - SOLD OUT
Bear Creek Road will be closed 24 hours a day from October 2-December 10, 2023. Boulder Creek will only be accessible via Highway 9 during this period. Please plan accordingly.
**NEWS FLASH** Gold has been discovered in Boulder Creek! Join Gold Rush Adventure at Boulder Creek Scout Reservation.
Experience the "gold fever" of pioneers flocking west to find their fame and fortune. Do you have what takes to stake and work your claim? Pan for gold, shoot like a cowboy, shoot air rifles and muzzleloading rifles, throw tomahawks and toilet plungers, start a fire with flint & steel, make candles, rope, and bullets, lasso a steer and cut wood for your cabin!
Selected Scouts will compete in the Gold Rush Challenge!
We have a custom silk-screen with this year's Gold Rush Adventure Logo. Bring a plain T-shirt (any size, any color – we have black and white ink) and take home a custom T-shirt!
Gold Rush Adventure is a cooperative event, in order to attend each unit must help by running at least one station per 15 participants.
Cost: $60 per participant (Scouts BSA youth, 5th Grade Webelos II/Arrow of Light Scouts, or Adult)
Includes: Two nights camping, cracker barrel, a patch, and all event materials.
Webelos II/Arrow of Light Scouts may ONLY attend as guests of a troop and must be accompanied by a parent/guardian. May participate in all events except tomahawks and muzzleloading rifles (air rifles and slingshots are available as substitutes).
Adults: All Scouts BSA adults must be registered with their troop in the position they are serving, have current YPT and AB506. Webelos Leaders must be registered with their pack in the position they are serving in, have current YPT and AB506. Webelos Parents/Legal Guardians do not need to be registered with the BSA but may not serve as two-deep leadership for their den and may only supervise their own scouts. Learn more here
Important Dates:
8/17 – Kick-off meeting 7-9pm
8/25 – Registration opens
9/14 – Planning meeting 7-9pm
9/22 – Registration unlimited
9/29-10/1 – Week 1
10/6-10/8 – Week 2
To Register:
Scouts – please contact your Sheriff (adult leader) to sign up.
This event sells out FAST. Registration opens at 9AM and is first-come, first-serve.
Limit for each weekend is 300 people (Scouts, Webelos, and Adults)
NEW THIS YEAR: You will need to select the number of participants you want to register (all types). Once the participants have been added, you will need to click the "Update Information" button for each person to select the participant type. There are four options: Scouts BSA Youth, Webelos II Youth, Scouts BSA Adult, Webelos II Parent.
Questions? Click "Contact."
When & Where
Weekend 2Boulder Creek Scout Reservation
Friday 10-06-2023 5:00 PM PT to
Sunday 10-08-2023 12:00 PM PT
Limit One Registration Per Unit
---
Weekend 1Boulder Creek Scout Reservation
Friday 09-29-2023 5:00 PM PT to
Sunday 10-01-2023 12:00 PM PT
Past
Limit One Registration Per Unit