Event Details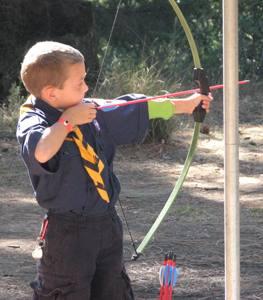 Bear Creek Road will be closed 24 hours a day from October 2-December 10, 2023. Boulder Creek will only be accessible via Highway 9 during this period. Please plan accordingly.
Come On to Cub-On!
Cub-ON is a great introduction to Cub Scout "family camping" and the natural beauty of our coastal area!
Boulder Creek Scout Reservation is located in the Santa Cruz mountains in a lush redwood forest! All meals are provided in our outdoor dining hall with trained staff at each of our activity areas!
Hiking •Archery • BB Guns • Crafts • Swimming • Pocket Knife Safety • Campfire Program
See you at Cub-ON!
When & Where
Cub-On (May 19-21)Boulder Creek Scout Reservation
Friday 05-19-2023 6:00 PM PT to
Sunday 05-21-2023 12:00 PM PT
Past
---
Cub-On (June 9-11)Boulder Creek Scout Reservation
Friday 06-09-2023 6:00 PM PT to
Sunday 06-11-2023 12:00 PM PT
Past
---
Cub-On (Aug 11-13)Boulder Creek Scout Reservation
Friday 08-11-2023 6:00 PM PT to
Sunday 08-13-2023 12:00 PM PT
Past
---
Cub-On (Oct 20-22)Boulder Creek Scout Reservation
Friday 10-20-2023 6:00 PM PT to
Sunday 10-22-2023 12:00 PM PT
Past
---
Cub-On (Oct 27-29)Boulder Creek Scout Reservation
Friday 10-27-2023 6:00 PM PT to
Sunday 10-29-2023 12:00 PM PT
Past