Event Details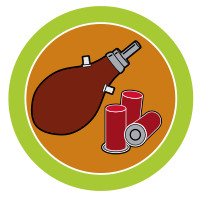 Location:
United Sportsmen Inc
4700 Evora Rd
Concord, California 94520
9AM -1PM
Minimum age 13 years old, not recommended for Scouts under 14 years old.
A shooting range liability waiver must be completed online for eash Scout participating PRIOR to the day of the event.

BRING:
Completed and signed Shooting Sports Permission Form
If you have a "Yellow Card" from completing the shooting range waiver previously, bring it.
Shotgun merit badge Blue Card opened with your Scoutmaster
Face covering for COVID deterrence (TBD)
A folding chair (and a pen/clipboard if you intend to take notes) as the "classroom" portion may be outside (TBD).
Scout uniform is not required, and "Class A" is DIScouraged.
Water, hat, and sunscreen.
You may bring snacks/lunch if you wish. We do not take a formal lunch break.
Prepare to actively demonstrate the knowledge and skills outlined in the Merit Badge Workbook, which should be completed prior.
Contact me with any questions/concerns:
Derek Westfall
Golden Gate Area Council Shotgun Shooting Merit Badge Coordinator
dgw.f4e@gmail.com
925-683-8297

When & Where
Shotgun Merit Badge, March 5thUnited Sportsmen Incorporated
Saturday 03-05-2022 9:00 AM PT to 1:00 PM PT
Past
---
Shotgun Merit Badge, May 21stUnited Sportsmen Incorporated
Saturday 05-21-2022 9:00 AM PT to 1:00 PM PT
Past
---
Shotgun Merit Badge, June 18thUnited Sportsmen Incorporated
Saturday 06-18-2022 9:00 AM PT to 1:00 PM PT
Past
---
Shotgun Merit Badge, September 10thUnited Sportsmen Incorporated
Saturday 09-10-2022 9:00 AM PT to 1:00 PM PT
Past