Rifle Shooting Merit Badge 2022
Event Details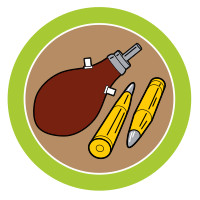 Rifle Merit Badge Course Description
Details:
Emergency contact(s) for each Scout must be parent or legal guardian.
No bulk registrations. Each Scout must register separately.
Class Size: 16 Scouts maximum.
Scout age requirements: None
Work to complete prior to arriving for the course:
Purchase and read the Rifle Shooting Merit Badge Pamphlet.
Download and complete the Rifle Shooting Merit Badge Workbook, including "Option A" (Rifle Shooting – Modern Cartridge Type). Do not complete "Option B" (Air Rifle Shooting) or "Option C" (Muzzle-Loading Rifle Shooting).
What to bring:
Completed Shooting Permission Form for Older Scouts.
Signed Blue Card
Lunch, water bottle, snack and sunscreen.
It is mandatory that participants wear long pants, long-sleeved shirts and closed toed footwear.
Early mornings are windy and cool, so bring a jacket or hoodie. A baseball cap is helpful to keep the sun out of a Scout's eyes on sunny days.
Equipment:
All necessary equipment will be provided.
Course Agenda:
Check in
Classroom & practical instruction
Parents may stay and watch behind the marked line or return at 1:30 for pick up.
Contact:
For questions, please Contact the Rifle Program Coordinator.
When & Where
February 20thConcord Police Association Range
Sunday 02-20-2022 8:00 AM PT to 1:30 PM PT
Past
---
March 13thConcord Police Association Range
Sunday 03-13-2022 8:00 AM PT to 1:30 PM PT
Past
---
May 15thConcord Police Association Range
Sunday 05-15-2022 8:00 AM PT to 1:30 PM PT
Past
---
October 2ndConcord Police Association Range
Sunday 10-02-2022 8:00 AM PT to 1:30 PM PT
Past
---
November 26thConcord Police Association Range
Saturday 11-26-2022 8:00 AM PT to 1:30 PM PT
Past