GG District Float with the Sea Scouts
Event Details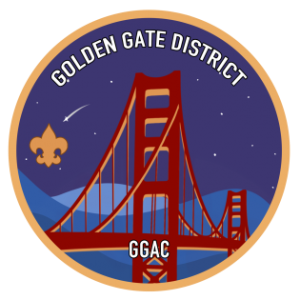 Come Join the Sea Scouts in the SF Aquatic Park!
Every year, the Sea Scouts hold an open house day where Cub Scouts can come check out the Sea Scout Base and take a boat ride or, if they have passed their BSA Swim Test, take a kayak around Aquatic Park.
Activity:
Kayaks for scouts: Scouts who have completed their BSA Swim Test can take out one of the 1-person kayaks. Be sure to pick "Kayak" as the registration type.
Kayaks for adults: Any adult can take out a 1-person kayak. Be sure to pick "Kayak" as the registration type.
Whale Boat Tour: Any scout, accompanied by one responsible adult, can join a Whale Boat tour (no swimming skill required). Be sure to pick "Whale Boat" as the registration type.
All scouts and adults will wear PFDs (Personal Floatation Devices), which will be provided by the Sea Scouts
Food:
Feel free to bring a picnic! There are also restaurants in nearby Ghiradelli Square
The usual food delivery services (Doordash, GrubHub, Uber Eats) all deliver to the Sea Scout base as well
What to bring:
Lunch (or get lunch nearby)
Blanket or chair to sit on the grass and enjoy a picnic
See you at the Sea Scout Base!
When & Where
Session 1: 10:00-11:00AM - KayaksSF Sea Scout Base
Saturday 06-03-2023
10:00 AM PT to 11:00 AM PT
Past
---
Session 1: 10:00-11:00AM - Outrigger Canoe TourSF Sea Scout Base
Saturday 06-03-2023
10:00 AM PT to 11:00 AM PT
Past
---
Session 2: 11:00-12:00PM - KayaksSF Sea Scout Base
Saturday 06-03-2023
11:00 AM PT to 12:00 PM PT
Past
---
Session 2: 11:00-12:00PM - Whaleboat TourSF Sea Scout Base
Saturday 06-03-2023
11:00 AM PT to 12:00 PM PT
Past
---
Session 3: 1:00-2:00PM - KayaksSF Sea Scout Base
Saturday 06-03-2023
1:00 PM PT to 2:00 PM PT
Past
---
Session 3: 1:00-2:00PM - Whaleboat TourSF Sea Scout Base
Saturday 06-03-2023
1:00 PM PT to 2:00 PM PT
Past