Event Details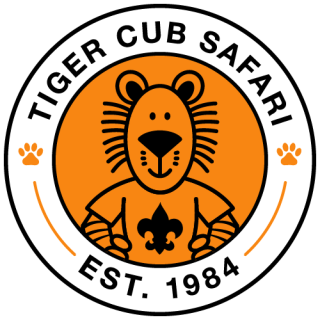 The "World-Famous" Tiger Cub Safari is truly the HIGHLIGHT of the TIGER CUB Year!



As featured in: Scouting Magazine (Mar/Apr 2016) and Boys' Life (Mar/Apr 2017)
Tiger Cub Safari an exciting overnight adventure full of fun for Tigers and their Adult Partners to enjoy, where the Tigers Rule, Others Drool!

You'll test your marksmanship skills at the Archery & BB gun ranges. Bluegill, sunfish and large-mouth bass lurk in the 80-acre lake, so be ready to do some fishin'! Rowboats provide a thrilling outing on the calm waters, and you'll be able to experience the beauty of nature along the trails. Arts & crafts will give you a chance to make something to take home with you so you'll remember your fantastic weekend at wonderful Wente Scout Reservation! Camp provides canvas tents on platforms, great meals, and real showers. Ask anyone who has been to Tiger Cub Safari, and they will attest that this event should not be missed! Scouts Honor!!!
We request that only Tiger Scouts and their registered Adult Partner(s) attend this event and that non-Tiger siblings stay home until they are of Tiger Age and ready to be the star of their own show.

Location: Wente Scout Reservation, 5401 Canyon Road outside Willits, CA in the scenic Mendocino County hills
Registration deadline is 11:59pm on Sunday, April 16, 2023 NO EXCEPTIONS

Check-in for your Safari on Saturday morning between 8am and 11am; the earlier the better!

More info on this program is available at http://www.TigerCubSafari.com/
When & Where
Tiger Cub Safari Weekend 1Wente Scout Reservation
Saturday 04-22-2023 8:00 AM PT to
Sunday 04-23-2023 12:00 PM PT
Past
---
Tiger Cub Safari Weekend 2Wente Scout Reservation
Saturday 04-29-2023 8:00 AM PT to
Sunday 04-30-2023 12:00 PM PT
Past