OA - Induction (Candidates), April 2023, Rancho Los Mochos
Event Details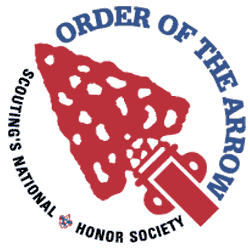 Order of the Arrow Induction April 14 - 16, 2023 CANDIDATES ONLY
Congratulations on being elected to become a member of the Order of the Arrow, the National Honor Society of the Boy Scouts of America. We, in the Yerba Buena Lodge serving the Golden Gate Area Council, have scheduled an induction weekend as follows:
When & Where:
Rancho Los Mochos, located outside Livermore, CA. Friday check-in starts at 8:00 PM.
The registration fee is $85.00.
REGISTRATION CLOSES AT 11:59 PM ON Friday, April 7, 2023.
Your registration fee includes OA dues, Lodge Patch, OA Handbook, Sash, and food for the weekend. You will receive detailed instructions once registered for the event. In order to participate, you must be registered in Golden Gate Area Council.
If you are over 18, you must meet these additional requirements:
Have current Youth Protection training through Sunday, April 16, 2023.
Be fully compliant with AB 506 which includes mandated state training and a Livescan background check. More information can be found at https://californiascouting.org.
If you have questions, please email inductions@yerbabuena.ggacbsa.org.
When & Where
Rancho Los Mochos
Friday 04-14-2023 8:00 PM PT to
Sunday 04-16-2023 10:00 AM PT