Order of the Arrow Annual Banquet 2019
Event Details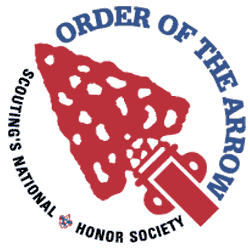 Lodge Fellowship, Elections & Banquet
@ Camp Herms (Saturday, November 9, 2019)
5:30PM – 8PM
Please register online at the registration link!
Your entire family is invited to attend the Lodge Banquet! They can join us in reviewing the Lodge's 2019 events and recognizing its accomplishments! We will be awarding the Lodge Spirit of the Totem Award and Founders Award. The 2019 Vigil honor candidates will also be announced. We will wrap up the evening by announcing the results of the Lodge officers' elections and installing the 2019 Lodge Officers whose terms begin January 1, 2020.
Lodge Officer Elections – afternoon of Saturday, November 9 between the Fellowship and the Banquet. Only youth members in good standing are eligible to vote. If you plan to run for Lodge Office (Lodge Chief, Vice-Chief Membership, Vice-Chief Program, treasurer, or Secretary), please contact Lodge Adviser, Paul Shimotake (shimotak@wellsfargo.com).
Elections will be held for the following Lodge Officer positions:
Lodge Chief
Lodge Vice-Chief Membership
Lodge Vice-Chief Program
Lodge Treasurer
Lodge Secretary
NOTE – To be eligible to run for a lodge office, the candidate and parent/ guardian must complete the Candidate Commitment Form prior to the election.
Registration Details
EVERYONE, including Gold Card members, who plans to attend must register online. Gold Card members who will be bringing an immediate family member for the banquet will need to register twice - first as a Gold Card member (free registration), then register your plus one as a OA Member (member rate, list your name and name of your guest in required fields if applicable). If you are a Gold Card member and you are registering two or more additional people, you need to register as a Gold Card member, and then as a OA Member + Family (Family rate, list your name and name of your guests in required fields). Please be sure to register all names upon registration of your plus one or your family members that will be attending so we will have a complete attendance list.
SPECIAL NOTES
If you register as a family, you must list your family member names in the comments required field, and you must list the amount of people attending (number is including yourself), in the required field.
Event Details review and refund policy:
Location: Camp Herms
Time: 5:30PM – 8PM
Check in from 4:30pm-5:30pm
Gold Card member: Free
Early member rate: $20.00
Early family rate: $40.00.
Regular member rate: $25.00
Regular family rate: $50.00
Onsite member rate: $30.00
Online registration closes at 11:59PM on Sunday, November 3rd.
Please be aware of the Council cancellation and refund policy. Details are at the following link: https://www.mdscbsa.org/wp-content/uploads/2019/05/MDSC-Refund-Policy-1.1.19.pdf
When & Where
OA Annual Banquet 2019Camp Herms
Saturday 11-09-2019 6:00 AM PT to 8:30 PM PT
Past