Order of the Arrow Induction August 2019
Event Details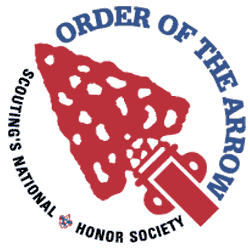 Order of the Arrow Induction August 2019
When & Where:
Camp Wolfeboro, Friday, August 16th, 7:00 PM PT to Sunday, August 18th, 11:00 AM PT
Check in from 7pm-8:30pm
$75.00 early registration fee ends on Sunday, August 4th.
$95.00 registration fee starts Monday, August 5th.
REGISTRATION CLOSES AT 11:59PM ON Sunday, August 11th.
ABSOLUTELY NO ON-SITE REGISTRATION
An email will be sent by the end of the day on Wednesday, August 14th, with additional important information to everyone who is registered. Please remember to look for that email.
How:
***It is preferred that candidates are not accompanied by their parents/guardians during the weekend (In between Drop Off and Pick Up), due to the traditions of Induction Weekend and the Order of the Arrow. It is therefore highly encouraged that carpools be arranged for candidates or other accommodations are made for parents that are not lodge members participating in the Induction Weekend. This policy of course does not pertain to individual candidates and their families who have a medical reason for needing to attend with their scout. Please contact event organizers for specific questions regarding things such as:
-transportation of candidates
-lodging for parental/guardian units who are not Ut-In Selica Members participating in the proceedings of Induction Weekend.
-if your scout does have a medical reason that requires you to accompany them during the proceedings of Induction Weekend.***
***The packing list is in the Lodge home page just below the online registration link.***
*** EXTRA NOTES***
To make registration easier, please create an account through the registration site, after you click "Register Here". You will receive no spam or external emails. It will allow the site to save your registration information and make registering for council events easier in the future. THANK YOU!!!
The electronic receipt that you received via email from the Mt. Diablo Silverado Council's online registration system after you hit the submit button is your confirmation from the Council. You DO NOT need to email the Lodge Registrar for confirmation of your registration. The Lodge receives a registration report via email from the Council after the final close of registration.
When & Where
Camp Wolfeboro
Friday 08-16-2019 7:00 PM PT to
Sunday 08-18-2019 11:00 AM PT
Past