GGAC Summer of STEM Scouts BSA-2020
Event Details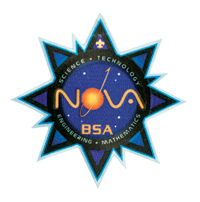 Come join the Golden Gate Area Council for a Summer of STEM. Starting on June 20th, the GGAC STEM Committee is offering two programs for Nova Awards for Scouts BSA.
The first program is a set of Nova Awards over the course of a week--Splash!, Whoosh!, Start Your Engines!, and Hello World. The second program will take 6-7 weeks as we recreate Gregor Mendel's Pea Experiment as a part of Mendel's Minions. While we're growing pea plants, we will also "Let It Grow" and see what factors affect plant growth and development. All the Nova Awards for Scouts BSA will meet via Zoom two to three times for the week-long Nova Awards and weekly for the combined Mendel's Minions/Let It Grow Nova Awards.
Each Nova Award costs $20 to take part, but Start Your Engines and Mendel's Minions/Let It Grow has an additional fee to cover the cost of special materials.
Sign up for as many Nova Awards as you like. The initial class size is 24 Scouts, but as we recruit and add Counselors, we will increase the course size. Each course will involve smaller meetings of six to eight Scouts to work more closely with the Nova Counselor.
When & Where
SplashCouncil Service Center
Monday 06-22-2020 1:00 PM PT to 3:00 PM PT
Past
---
Mendels Minions/Let It GrowCouncil Service Center
Tuesday 06-23-2020 1:00 PM PT to 3:00 PM PT
Past
---
WhooshCouncil Service Center
Monday 07-06-2020 1:00 PM PT to 3:00 PM PT
Past
---
Start Your EnginesCouncil Service Center
Monday 07-20-2020 1:00 PM PT to 3:00 PM PT
Past
---
Hello WorldCouncil Service Center
Monday 08-03-2020 1:00 PM PT to 3:00 PM PT
Past