2108 GCC Surveying Merit Badge
Event Details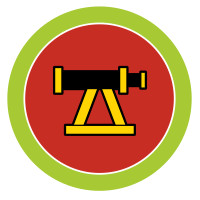 Land Surveying Merit Badge
Date: 10/27/2018
Event: Boy Scout Survey Merit Badge introduction
Sponsors: United Surveyors of Arizona and Survey Innovation Group
Time: 8:30AM - 2PM - Lunch will be provided -
Merit Badge Starts Promptly at 9:00AM - will not be able to accommodate late arrivals.
Location: Mansfield Park - Tucson, AZ (2000 N Fourth Ave)-Soccer FIeld A
NEW LOCATION:
Kennedy Park
3357 S LaCholla Blvd
Tucson, AZ 85713
LaCholla Blvd & Ajo Way
We have reserved Soccer Field C and Ramada 34 at Kennedy Regional Park (see attached map) :
http://scoutingevent.com/attachment/BSA010/document_15399097980_2390.pdf
If you like the outdoors, hunting for treasure, solving puzzles, math & history, and cutting edge technology this is for you! We will begin by providing a brief overview of what land surveying is and what a land surveyor does. After that we will introduce the scouts to all of the technology land surveyors use on a daily basis. This will include 3D scanners, robotic total stations, GPS instruments and drones! All that attend will get hands on experience with this equipment at each of the learning stations.
Pre-Req: Homework is attached before you check out.
Merit Badge Workbook attached:
http://scoutingevent.com/attachment/BSA010/document_15301492100_2390.pdf
Bring water bottles or personal hydration system to stay hydrated.
When & Where
Kennedy Park
Saturday 10-27-2018
8:00 AM MST to 2:00 PM MST
Past