Fry's Food Stores Storefront Registration - Camp Cards 2023
Event Details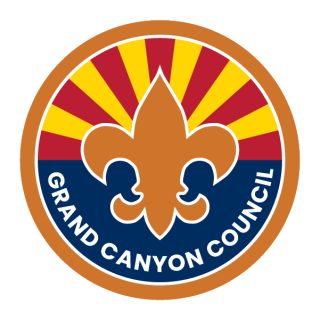 2023 Camp Card
Storefront Registration
Thank you to Fry's Food Stores for supporting our 2023 Camp Card Sale! There are over 100 locations to choose from, with shifts available on Friday, Saturday, and Sunday. Please contact Brendan Switts if a location you are interested in is not listed.
Dates: March 24-26, 2022
Friday:
Saturday:
9:00 AM - 12:00 PM
12:00 PM - 3:00 PM
Sunday:
9:00 AM - 12:00 PM
12:00 PM - 3:00 PM
Registration opens February 1st at 10:00 AM
Use the REGISTER AS GUEST Option Only.
CLICK on the "CHECK OUT" TAB to BOOK your Registration. This step must be taken to confirm your registration. If you are not booked, you are not registered for the shift!
Please contact the Council Service Center with any changes or cancellations.
Find more information about our 2023 Camp Card Sale at grandcanyonbsa.org/campcards
When & Where
100 E. Jefferson St., Phoenix, AZ 85004
Council Service Center
Friday 03-24-2023 4:00 PM MT to
Sunday 03-26-2023 3:00 PM MT

---
10450 N. La Canada Dr., Oro Valley, AZ 85737
Council Service Center
Friday 03-24-2023 4:00 PM MT to
Sunday 03-26-2023 3:00 PM MT

---
10660 N.W. Grand Ave., Sun City, AZ 85351
Council Service Center
Friday 03-24-2023 4:00 PM MT to
Sunday 03-26-2023 3:00 PM MT

---
10661 N. Oracle Rd., Oro Valley, AZ 85737
Council Service Center
Friday 03-24-2023 4:00 PM MT to
Sunday 03-26-2023 3:00 PM MT

---
10675 W. Indian School, Avondale, AZ 85392
Council Service Center
Friday 03-24-2023 4:00 PM MT to
Sunday 03-26-2023 3:00 PM MT

---
1100 Highway 89-260, Cottonwood, AZ 86326
Council Service Center
Friday 03-24-2023 4:00 PM MT to
Sunday 03-26-2023 3:00 PM MT

---
11203 E. So Frontage Rd, Yuma, AZ 85367
Council Service Center
Friday 03-24-2023 4:00 PM MT to
Sunday 03-26-2023 3:00 PM MT

---
11425 W. Buckeye Rd., Avondale, AZ 85323
Council Service Center
Friday 03-24-2023 4:00 PM MT to
Sunday 03-26-2023 3:00 PM MT

---
12100 N Thornydale Rd, Marana, AZ 85658
Council Service Center
Friday 03-24-2023 4:00 PM MT to
Sunday 03-26-2023 3:00 PM MT

---
1300 S. Watson Rd., Buckeye, AZ 85326
Council Service Center
Friday 03-24-2023 4:00 PM MT to
Sunday 03-26-2023 3:00 PM MT

---
1311 E. Bell Rd., Phoenix, AZ 85022
Council Service Center
Friday 03-24-2023 4:00 PM MT to
Sunday 03-26-2023 3:00 PM MT

---
13730 W. Camelback Rd., Litchfield Park, AZ 85340
Council Service Center
Friday 03-24-2023 4:00 PM MT to
Sunday 03-26-2023 3:00 PM MT

---
1385 E. Florence Blvd., Casa Grande, AZ 85122
Council Service Center
Friday 03-24-2023 4:00 PM MT to
Sunday 03-26-2023 3:00 PM MT

---
13982 W. Waddell, Surprise, AZ 85379
Council Service Center
Friday 03-24-2023 4:00 PM MT to
Sunday 03-26-2023 3:00 PM MT

---
1455 N. Higley Rd., Gilbert, AZ 85234
Council Service Center
Friday 03-24-2023 4:00 PM MT to
Sunday 03-26-2023 3:00 PM MT

---
14845 E. Shea Blvd., Fountain Hills, AZ 85268
Council Service Center
Friday 03-24-2023 4:00 PM MT to
Sunday 03-26-2023 3:00 PM MT

---
150 E. Old W. Hwy., Apache Junction, AZ 85119
Council Service Center
Friday 03-24-2023 4:00 PM MT to
Sunday 03-26-2023 3:00 PM MT

---
15215 N. Cotton Lane, Surprise, AZ 85388
Council Service Center
Friday 03-24-2023 4:00 PM MT to
Sunday 03-26-2023 3:00 PM MT

---
155 W Combs Rd, San Tan Valley, AZ 85140
Council Service Center
Friday 03-24-2023 4:00 PM MT to
Sunday 03-26-2023 3:00 PM MT

---
15510 W. Bell Rd., Surprise, AZ 85374
Council Service Center
Friday 03-24-2023 4:00 PM MT to
Sunday 03-26-2023 3:00 PM MT

---
1575 N. Dysart Rd., Avondale, AZ 85392
Council Service Center
Friday 03-24-2023 4:00 PM MT to
Sunday 03-26-2023 3:00 PM MT

---
15950 S Rancho Sahuarita, Sahuarita, AZ 85629
Council Service Center
Friday 03-24-2023 4:00 PM MT to
Sunday 03-26-2023 3:00 PM MT

---
16380 W. Yuma Rd, Goodyear, AZ 85338
Council Service Center
Friday 03-24-2023 4:00 PM MT to
Sunday 03-26-2023 3:00 PM MT

---
1795 W. Valencia Rd., Tucson, AZ 85746
Council Service Center
Friday 03-24-2023 4:00 PM MT to
Sunday 03-26-2023 3:00 PM MT

---
1815 W. Glendale Ave., Phoenix, AZ 85021
Council Service Center
Friday 03-24-2023 4:00 PM MT to
Sunday 03-26-2023 3:00 PM MT

---
1835 E. Guadalupe, Tempe, AZ 85283
Council Service Center
Friday 03-24-2023 4:00 PM MT to
Sunday 03-26-2023 3:00 PM MT

---
18420 N. 19th Ave., Phoenix, AZ 85023
Council Service Center
Friday 03-24-2023 4:00 PM MT to
Sunday 03-26-2023 3:00 PM MT

---
1845 E. Baseline Rd., Gilbert, AZ 85233
Council Service Center
Friday 03-24-2023 4:00 PM MT to
Sunday 03-26-2023 3:00 PM MT

---
1915 S. Power Rd., Mesa, AZ 85206
Council Service Center
Friday 03-24-2023 4:00 PM MT to
Sunday 03-26-2023 3:00 PM MT

---
1935 N. Stapley Dr., Mesa, AZ 85203
Council Service Center
Friday 03-24-2023 4:00 PM MT to
Sunday 03-26-2023 3:00 PM MT

---
19403 N. RH Johnson Blvd., Sun City West, AZ 85375
Council Service Center
Friday 03-24-2023 4:00 PM MT to
Sunday 03-26-2023 3:00 PM MT

---
1950 W. Ray Rd., Chandler, AZ 85224
Council Service Center
Friday 03-24-2023 4:00 PM MT to
Sunday 03-26-2023 3:00 PM MT

---
19600 W. Indian School Rd., Litchfield Park, AZ 85340
Council Service Center
Friday 03-24-2023 4:00 PM MT to
Sunday 03-26-2023 3:00 PM MT

---
2001 E. Irvington Rd., Tucson, AZ 85714
Council Service Center
Friday 03-24-2023 4:00 PM MT to
Sunday 03-26-2023 3:00 PM MT

---
201 N. Switzer Canyon, Flagstaff, AZ 86001
Council Service Center
Friday 03-24-2023 4:00 PM MT to
Sunday 03-26-2023 3:00 PM MT

---
2010 S. Alma School Rd., Chandler, AZ 85286
Council Service Center
Friday 03-24-2023 4:00 PM MT to
Sunday 03-26-2023 3:00 PM MT

---
20220 N. 59th Ave., Glendale, AZ 85308
Council Service Center
Friday 03-24-2023 4:00 PM MT to
Sunday 03-26-2023 3:00 PM MT

---
20427 N. Hayden Rd., Scottsdale, AZ 85255
Council Service Center
Friday 03-24-2023 4:00 PM MT to
Sunday 03-26-2023 3:00 PM MT

---
20797 N. John Wayne Pkwy, Maricopa, AZ 85139
Council Service Center
Friday 03-24-2023 4:00 PM MT to
Sunday 03-26-2023 3:00 PM MT

---
2115 Hwy. 60, #200, Globe, 85539
Council Service Center
Friday 03-24-2023 4:00 PM MT to
Sunday 03-26-2023 3:00 PM MT

---
2250 E. Baseline Rd., Phoenix, AZ 85042
Council Service Center
Friday 03-24-2023 4:00 PM MT to
Sunday 03-26-2023 3:00 PM MT

---
2480 N. Swan Rd., Tucson, AZ 85712
Council Service Center
Friday 03-24-2023 4:00 PM MT to
Sunday 03-26-2023 3:00 PM MT

---
25105 E Ellsworth, Queen Creek, AZ 85142
Council Service Center
Friday 03-24-2023 4:00 PM MT to
Sunday 03-26-2023 3:00 PM MT

---
25401 N. Lake Pleasant Pkwy., Peoria, AZ 85383
Council Service Center
Friday 03-24-2023 4:00 PM MT to
Sunday 03-26-2023 3:00 PM MT

---
2626 S. 83rd Ave., Phoenix, AZ 85043
Council Service Center
Friday 03-24-2023 4:00 PM MT to
Sunday 03-26-2023 3:00 PM MT

---
26300 N Norterra Pkwy, Phoenix, AZ 85085
Council Service Center
Friday 03-24-2023 4:00 PM MT to
Sunday 03-26-2023 3:00 PM MT

---
2700 W. Baseline, Tempe, AZ 85283
Council Service Center
Friday 03-24-2023 4:00 PM MT to
Sunday 03-26-2023 3:00 PM MT

---
2724 S. Signal Butte Rd., Mesa, AZ 85209
Council Service Center
Friday 03-24-2023 4:00 PM MT to
Sunday 03-26-2023 3:00 PM MT

---
2727 E. Broadway, Mesa, AZ 85204
Council Service Center
Friday 03-24-2023 4:00 PM MT to
Sunday 03-26-2023 3:00 PM MT

---
2727 W. Bell Rd., Phoenix, AZ 85053
Council Service Center
Friday 03-24-2023 4:00 PM MT to
Sunday 03-26-2023 3:00 PM MT

---
2800 W. Dove Valley Rd., Phoenix, AZ 85085
Council Service Center
Friday 03-24-2023 4:00 PM MT to
Sunday 03-26-2023 3:00 PM MT

---
2858 N Pinal Ave, Casa Grande, AZ 85122
Council Service Center
Friday 03-24-2023 4:00 PM MT to
Sunday 03-26-2023 3:00 PM MT

---
2929 E. Ocotillo Rd., Chandler, AZ 85249
Council Service Center
Friday 03-24-2023 4:00 PM MT to
Sunday 03-26-2023 3:00 PM MT

---
29455 N. Cave Creek Rd., Cave Creek, AZ 85331
Council Service Center
Friday 03-24-2023 4:00 PM MT to
Sunday 03-26-2023 3:00 PM MT

---
3036 E. Thomas, Phoenix, AZ 85016
Council Service Center
Friday 03-24-2023 4:00 PM MT to
Sunday 03-26-2023 3:00 PM MT

---
3100 N. Glassford Hill Rd, Prescott Valley, AZ 86314
Council Service Center
Friday 03-24-2023 4:00 PM MT to
Sunday 03-26-2023 3:00 PM MT

---
3198 Willow Creek Rd., Prescott, AZ 86301
Council Service Center
Friday 03-24-2023 4:00 PM MT to
Sunday 03-26-2023 3:00 PM MT

---
3232 S. Mill Ave., Tempe, AZ 85282
Council Service Center
Friday 03-24-2023 4:00 PM MT to
Sunday 03-26-2023 3:00 PM MT

---
3246 E. Bell Rd., Phoenix, AZ 85032
Council Service Center
Friday 03-24-2023 4:00 PM MT to
Sunday 03-26-2023 3:00 PM MT

---
3255 S. Rural Rd., Tempe, AZ 85282
Council Service Center
Friday 03-24-2023 4:00 PM MT to
Sunday 03-26-2023 3:00 PM MT

---
3261 E. Pecos Rd., Gilbert, AZ 85295
Council Service Center
Friday 03-24-2023 4:00 PM MT to
Sunday 03-26-2023 3:00 PM MT

---
3421 W. Thunderbird, Phoenix, AZ 85053
Council Service Center
Friday 03-24-2023 4:00 PM MT to
Sunday 03-26-2023 3:00 PM MT

---
3511 W. Peoria Ave., Phoenix, AZ 85029
Council Service Center
Friday 03-24-2023 4:00 PM MT to
Sunday 03-26-2023 3:00 PM MT

---
3616 E. Ray Rd., Phoenix, AZ 85044
Council Service Center
Friday 03-24-2023 4:00 PM MT to
Sunday 03-26-2023 3:00 PM MT

---
3640 S. 16th Ave., Tucson, AZ 85713
Council Service Center
Friday 03-24-2023 4:00 PM MT to
Sunday 03-26-2023 3:00 PM MT

---
3770 W. Ina Rd., Marana, AZ 85741
Council Service Center
Friday 03-24-2023 4:00 PM MT to
Sunday 03-26-2023 3:00 PM MT

---
3949 E. Chandler Blvd., Phoenix, AZ 85048
Council Service Center
Friday 03-24-2023 4:00 PM MT to
Sunday 03-26-2023 3:00 PM MT

---
39508 N. Daisy Mtn. Dr., Anthem, AZ 85086
Council Service Center
Friday 03-24-2023 4:00 PM MT to
Sunday 03-26-2023 3:00 PM MT

---
4025 E. Thunderbird, Phoenix, AZ 85032
Council Service Center
Friday 03-24-2023 4:00 PM MT to
Sunday 03-26-2023 3:00 PM MT

---
4036 N. 1st Ave., Tucson, AZ 85719
Council Service Center
Friday 03-24-2023 4:00 PM MT to
Sunday 03-26-2023 3:00 PM MT

---
4075 E. Williams Field Rd., Gilbert, AZ 85295
Council Service Center
Friday 03-24-2023 4:00 PM MT to
Sunday 03-26-2023 3:00 PM MT

---
4150 E. 22nd St., Tucson, AZ 85711
Council Service Center
Friday 03-24-2023 4:00 PM MT to
Sunday 03-26-2023 3:00 PM MT

---
4202 W. Cactus, Phoenix, AZ 85029
Council Service Center
Friday 03-24-2023 4:00 PM MT to
Sunday 03-26-2023 3:00 PM MT

---
4230 W. McDowell Rd., Phoenix, AZ 85009
Council Service Center
Friday 03-24-2023 4:00 PM MT to
Sunday 03-26-2023 3:00 PM MT

---
4315 W. Bell Rd., Glendale, AZ 85308
Council Service Center
Friday 03-24-2023 4:00 PM MT to
Sunday 03-26-2023 3:00 PM MT

---
4329 W. Northern Ave., Glendale, AZ 85301
Council Service Center
Friday 03-24-2023 4:00 PM MT to
Sunday 03-26-2023 3:00 PM MT

---
435 S. Ellsworth, Mesa, AZ 85208
Council Service Center
Friday 03-24-2023 4:00 PM MT to
Sunday 03-26-2023 3:00 PM MT

---
4351 E. Highway 90, Sierra Vista, AZ 85635
Council Service Center
Friday 03-24-2023 4:00 PM MT to
Sunday 03-26-2023 3:00 PM MT

---
4353 W. Bethany Home, Glendale, AZ 85301
Council Service Center
Friday 03-24-2023 4:00 PM MT to
Sunday 03-26-2023 3:00 PM MT

---
4440 E. Main St., Mesa, AZ 85205
Council Service Center
Friday 03-24-2023 4:00 PM MT to
Sunday 03-26-2023 3:00 PM MT

---
4505 E. Thomas, Phoenix, AZ 85018
Council Service Center
Friday 03-24-2023 4:00 PM MT to
Sunday 03-26-2023 3:00 PM MT

---
4707 E. Shea Blvd., Phoenix, AZ 85028
Council Service Center
Friday 03-24-2023 4:00 PM MT to
Sunday 03-26-2023 3:00 PM MT

---
4724 N. 20th St., Phoenix, AZ 85016
Council Service Center
Friday 03-24-2023 4:00 PM MT to
Sunday 03-26-2023 3:00 PM MT

---
4815 E. Carefree Highway, Cave Creek, AZ 85331
Council Service Center
Friday 03-24-2023 4:00 PM MT to
Sunday 03-26-2023 3:00 PM MT

---
4842 E. Bell Rd., Scottsdale, AZ 85254
Council Service Center
Friday 03-24-2023 4:00 PM MT to
Sunday 03-26-2023 3:00 PM MT

---
500 W. 24th St., Yuma, AZ 85364
Council Service Center
Friday 03-24-2023 4:00 PM MT to
Sunday 03-26-2023 3:00 PM MT

---
5100 S. McClintock Dr., Tempe, AZ 85282
Council Service Center
Friday 03-24-2023 4:00 PM MT to
Sunday 03-26-2023 3:00 PM MT

---
5116 W. Olive, Glendale, AZ 85302
Council Service Center
Friday 03-24-2023 4:00 PM MT to
Sunday 03-26-2023 3:00 PM MT

---
5140 W. Baseline Rd., Laveen, AZ 85339
Council Service Center
Friday 03-24-2023 4:00 PM MT to
Sunday 03-26-2023 3:00 PM MT

---
520 E. Baseline, Phoenix, AZ 85042
Council Service Center
Friday 03-24-2023 4:00 PM MT to
Sunday 03-26-2023 3:00 PM MT

---
542 E. Hunt Hwy, San Tan Valley, AZ 85143
Council Service Center
Friday 03-24-2023 4:00 PM MT to
Sunday 03-26-2023 3:00 PM MT

---
554 W. Baseline, Mesa, AZ 85210
Council Service Center
Friday 03-24-2023 4:00 PM MT to
Sunday 03-26-2023 3:00 PM MT

---
554 W. Baseline, Mesa, AZ 85210
Council Service Center
Friday 03-24-2023 4:00 PM MT to
Sunday 03-26-2023 3:00 PM MT

---
555 E. Grant Rd., Tucson, AZ 85705
Council Service Center
Friday 03-24-2023 4:00 PM MT to
Sunday 03-26-2023 3:00 PM MT

---
5771 W. Thunderbird, Glendale, AZ 85306
Council Service Center
Friday 03-24-2023 4:00 PM MT to
Sunday 03-26-2023 3:00 PM MT

---
5941 E. McKellips, Mesa, AZ 85215
Council Service Center
Friday 03-24-2023 4:00 PM MT to
Sunday 03-26-2023 3:00 PM MT

---
6321 E. Greenway, Scottsdale, AZ 85254
Council Service Center
Friday 03-24-2023 4:00 PM MT to
Sunday 03-26-2023 3:00 PM MT

---
6470 S. Higley Rd., Gilbert, AZ 85122
Council Service Center
Friday 03-24-2023 4:00 PM MT to
Sunday 03-26-2023 3:00 PM MT

---
6601 W. Indian School, Phoenix, AZ 85033
Council Service Center
Friday 03-24-2023 4:00 PM MT to
Sunday 03-26-2023 3:00 PM MT

---
6611 W. Bell Rd., Glendale, AZ 85308
Council Service Center
Friday 03-24-2023 4:00 PM MT to
Sunday 03-26-2023 3:00 PM MT

---
6625 W. Happy Valley Road, Glendale, AZ 85310
Council Service Center
Friday 03-24-2023 4:00 PM MT to
Sunday 03-26-2023 3:00 PM MT

---
6710 W. Bethany Home, Glendale, AZ 85303
Council Service Center
Friday 03-24-2023 4:00 PM MT to
Sunday 03-26-2023 3:00 PM MT

---
7050 E. 22nd St., Tucson, AZ 85710
Council Service Center
Friday 03-24-2023 4:00 PM MT to
Sunday 03-26-2023 3:00 PM MT

---
7050 E. Golf Links Rd., Tucson, AZ 85730
Council Service Center
Friday 03-24-2023 4:00 PM MT to
Sunday 03-26-2023 3:00 PM MT

---
714 S. Val Vista, Gilbert, AZ 85296
Council Service Center
Friday 03-24-2023 4:00 PM MT to
Sunday 03-26-2023 3:00 PM MT

---
744 W. Camelback, Phoenix, AZ 85013
Council Service Center
Friday 03-24-2023 4:00 PM MT to
Sunday 03-26-2023 3:00 PM MT

---
7455 W. Cactus Rd., Peoria, AZ 85381
Council Service Center
Friday 03-24-2023 4:00 PM MT to
Sunday 03-26-2023 3:00 PM MT

---
7628-A E. Indian School, Scottsdale, AZ 85251
Council Service Center
Friday 03-24-2023 4:00 PM MT to
Sunday 03-26-2023 3:00 PM MT

---
7770 E. McDowell, Scottsdale, AZ 85257
Council Service Center
Friday 03-24-2023 4:00 PM MT to
Sunday 03-26-2023 3:00 PM MT

---
7812 E. Speedway Blvd., Tucson, AZ 85710
Council Service Center
Friday 03-24-2023 4:00 PM MT to
Sunday 03-26-2023 3:00 PM MT

---
7870 N. Silverbell Rd., Marana, AZ 85743
Council Service Center
Friday 03-24-2023 4:00 PM MT to
Sunday 03-26-2023 3:00 PM MT

---
8080 S. Houghton Rd., Tucson, AZ 85747
Council Service Center
Friday 03-24-2023 4:00 PM MT to
Sunday 03-26-2023 3:00 PM MT

---
8325 W. Indian School Rd., Phoenix, AZ 85037
Council Service Center
Friday 03-24-2023 4:00 PM MT to
Sunday 03-26-2023 3:00 PM MT

---
8375 W. Deer Valley Rd., Peoria, AZ 85382
Council Service Center
Friday 03-24-2023 4:00 PM MT to
Sunday 03-26-2023 3:00 PM MT

---
850 E. Hatcher Rd., Phoenix, AZ 85020
Council Service Center
Friday 03-24-2023 4:00 PM MT to
Sunday 03-26-2023 3:00 PM MT

---
855 W. Warner Rd., Gilbert, AZ 85233
Council Service Center
Friday 03-24-2023 4:00 PM MT to
Sunday 03-26-2023 3:00 PM MT

---
87 E. Williams Field Rd, Gilbert, AZ 85225
Council Service Center
Friday 03-24-2023 4:00 PM MT to
Sunday 03-26-2023 3:00 PM MT

---
8900 E. Via Linda Ln., Scottsdale, AZ 85258
Council Service Center
Friday 03-24-2023 4:00 PM MT to
Sunday 03-26-2023 3:00 PM MT

---
9043 W. Olive, Peoria, AZ 85345
Council Service Center
Friday 03-24-2023 4:00 PM MT to
Sunday 03-26-2023 3:00 PM MT

---
9245 W. Union Hills, Peoria, AZ 85382
Council Service Center
Friday 03-24-2023 4:00 PM MT to
Sunday 03-26-2023 3:00 PM MT

---
9401 E. 22nd St., Tucson, AZ 85710
Council Service Center
Friday 03-24-2023 4:00 PM MT to
Sunday 03-26-2023 3:00 PM MT

---
950 W. Fair St., Prescott, AZ 86305
Council Service Center
Friday 03-24-2023 4:00 PM MT to
Sunday 03-26-2023 3:00 PM MT

---
981 W. Elliott Rd., Chandler, AZ 85225
Council Service Center
Friday 03-24-2023 4:00 PM MT to
Sunday 03-26-2023 3:00 PM MT

---
985 E Riggs Road, Chandler, AZ 85249
Council Service Center
Friday 03-24-2023 4:00 PM MT to
Sunday 03-26-2023 3:00 PM MT