The Central District & the GCC Jewish Committee on Scouting Combined BALOO/IOLS Training
Event Details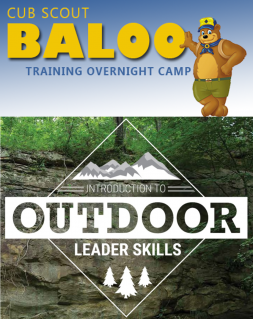 New Combined Course
Basic Adult Leader Outdoor Orientation (BALOO)
&
Introduction to Outdoor Leader Skills (IOLS)
Complete two trainings in one class
Join us at the Heard Scout Pueblo for two days of outstanding leader specific training.
Don't miss this opportunity for leadership training, fellowship, and networking with your fellow Scouters while enjoying a delicious dutch oven pot roast dinner Sunday evening!
All food and beverages provided by the
Jewish Committee on Scouting.
Location: Heard Scout Pueblo
Dates: Sunday, February 17th - Monday February 18th
Check In - 8:00am - 8:45am Sunday, February 17th
Closing - IOLS: 11:00am Monday, February 18th
BALOO: 4:00pm Monday, February 18th
This is a combined course which will cover BOTH BALOO and IOLS. If you only need IOLS you will be dismissed at about 11:00am on Monday.
Outdoor Leader Skills for the Scouts BSA Outdoor Program - Sunday, February 17th 8:00am - Monday, February 18th 11:00am
Required training for: Scoutmasters/Ass't.Scoutmasters and Crew Advisers. IOLS REQUIRES an overnight stay
Recommended for all Boy Scout leaders and for those wishing to take Wood Badge training.
BALOO - Basic Adult Leader Outdoor Orientation - Sunday, February 17th 8:00am - Monday, February 18th 4:00pm
Required training for: Cub Scout leaders to take the Pack or Webelos Dens camping. The new BALOO course REQUIRES an overnight stay.
Recommended for all Cub Scout leaders and for those wishing to take Wood Badge training.
This combined course is designed as an introductory class and will satisfy the requirements needed to take Packs or Webelos Dens camping, and required training for Scoutmasters and Assistant Scoutmasters. The benefit to Cub Scout leaders is that after taking this one training they will be prepared for Scouts BSA. Leaders will not be required to retake an Introduction to Outdoor Leader Skills class for Scouts BSA.
Participants are required to stay overnight as a part of this course. Participants will be staying in their own tents and working together as Patrols throughout the weekend. You will be learning various cooking techniques as you prepare the meals for the course. Our instructors will guide you on how to set up your campsite and how to prepare the meals.
Lunch and Dinner on Sunday and Breakfast on Monday will be provided for IOLS Only participants and BALOO participants will also have Lunch on Monday.
IOLS Course Description:
Campsite Selection: Basics; Tent and Bag Speciations
Cooking and Sanitation: Prep; Storage; Meal Planning
Fires, Stoves, Campfires: Equipment; Safety; Campfire Planning
Interfaith Services: Inclusion; Incorporation at Camp-outs
Outdoor Ethics: Leave No Trace; Tread Lightly!; Outdoor Code
Packing and Hiking: Proper Gear; Packing Techniques
Plant and Animal ID: Native and Invasive Species; Tracking
Map and Compass: Basics; GPS; Geocache
Ropes and Knots: Whipping; Tying; Lashing
Woods Tools: Pocketknife; Camp Saw; Ax; Proper Care and Use; Whittling Chip
BALOO Course Description:
BALOO participants must complete the online prerequisites my.scouting prior to arrival at the in person portion.
In addition to the above topics the following will also be covered:
Health and Safety: Unique Situations; Risk Reduction
Large Group Games: Tips and Tricks; Ideas
Outdoor Ceremonies: Recognition; Planning
Program Planning: Age Appropriateness; Recognitions
Please print all attachments including Health Form A & both B's.
When & Where
Heard Scout Pueblo
Sunday 02-17-2019 8:00 AM MT to
Monday 02-18-2019 4:00 PM MT
Past